Last Updated On 14 July,2017 07:02 pm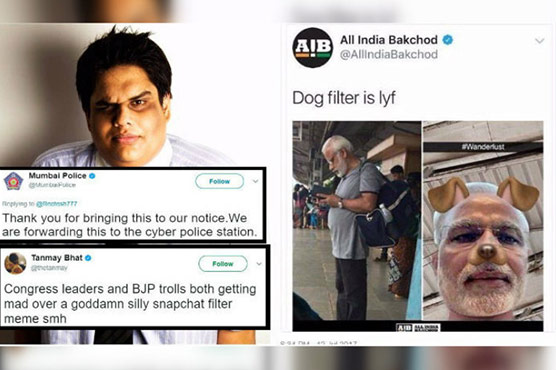 "An FIR has been registered against AIB at Mumbai's cyber police station"
MUMBAI (AFP) - Indian police have filed a defamation case against a group of comedians accused of insulting Prime Minister Narendra Modi, the latest incident to raise fears over creative freedoms in the country.
A spokeswoman for the Mumbai police said on Friday that the force had registered a first information report against All India Bakchod (AIB) over a tweet poking fun at India s leader.
"An FIR has been registered against AIB at Mumbai s cyber police station after due legal consultation," Rashmi Karandikar told AFP.
The case has been registered under laws against defamation and spreading obscene material online.
Police received a complaint after AIB earlier this week tweeted a photograph of a Modi look-alike who had been spotted at a train station carrying a holdall and looking at his mobile phone.
Alongside it they posted a photo of the real Modi s face but superimposed a dog s features using a Snapchat filter. They included the hashtag "Wanderlust" in an apparent reference to Modi s regular trips abroad.
The tweet went viral on social media but sparked a backlash from Modi supporters and AIB ended up deleting it.
"Will continue making jokes. And deleting if necessary. And making jokes again. And apologizing if necessary. Don t care what you think," Tanmay Bhat, one of AIB s founders tweeted.
It is not the first time AIB s jokes have come under the scanner of Indian police.
In 2015 the popular group fell foul of authorities when they were at the centre of an obscenity investigation over some sexually explicit jokes in a comedy "roast" show featuring several Bollywood stars.
Last year Mumbai police asked YouTube and Facebook to block an AIB video mocking cricket great Sachin Tendulkar and famous Indian movie singer Lata Mangeshkar.
Free speech advocates allege that there is a growing climate of intolerance under Hindu nationalist leader Modi, with online trolls feeling empowered to target social media users who express different points of view from the ruling Bharatiya Janata Party.
This week the Central Board of Film Certification (CBFC) refused to certify a documentary film featuring Nobel prize-winning economist Amartya Sen unless some words, including "cow" and "Hindu India", are beeped out.