Last Updated On 02 July,2017 04:01 pm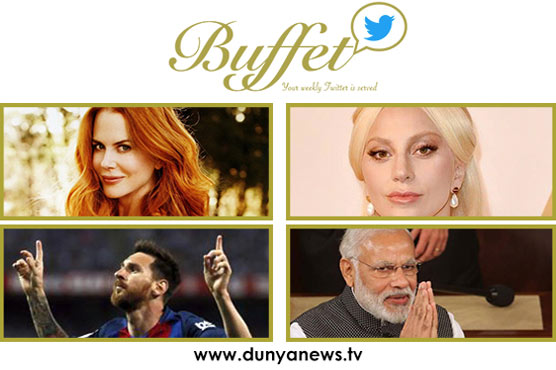 Your buffet has all the Twitter chirps of the entire week
(By Abdullah Ejaz) With another serving of the Twitter buffet this week, we are back at your screens and we never take your time for granted so let's dig right in.
Netherlands PM gifts bicycle to Modi
Narendra Modi made a three-nation tour this week i.e. the United States, Portugal and Netherlands and after he landed back in New Delhi on Wednesday, none other that Sushma Swaraj greeted her premier.
Swaraj and her bouqet do not match up to what Netherlands PM did for Modi. Got him a bicycle.
Here is a happy Modi posing with his new bike.
---
Thank you @MinPres @markrutte for the bicycle. pic.twitter.com/tTVPfGNC9k

— Narendra Modi (@narendramodi) June 28, 2017
---
Lawyer uses Lady Gaga lyric to defend client
Counsel for an American investor and a man of several businesses defended his client during a court hearing this week by putting forward to the jury and the judge, a lyric from Lady Gaga s song.
Take that judge! The lawyer is too cool for your usual.
Plus, welcome Gaga to the corridors of courts through fanboying counsels. Sounds borderline dangerous. Shall we expect "monsters" elsewhere also?
---
'He Was Born This Way' Martin Shkreli's Lawyer Uses Lady Gaga Lyric to Defend Former Pharma CEO at Trial https://t.co/g0U7vaOcts

— People Magazine (@people) June 29, 2017
---
From one world, cut to another. It is like going from naan-murgh channey to a lighter-than-air French croissant real quick (not in that order).
'Broken' Jamshed Dasti sobs
A disturbing, to say the least, video of a pleading Dasti was released on the social media this week, over 20 days into his incarceration in a sedition case.
The sobbing MNA begged the chief justice to help get him rid of the alleged sufferings in the prison. The gut-renching video showed Dasti, a presumable influential person for being an incumbent member of the National Assembly, complaining of scorpion-infested cell that he is allegedly kept in, beyond-the-bear torture and forced starvation for six days.
The MNA from Muzaffargarh claimed in the video that it all was ordered by the higher-ups .
---
Disgusting! Fascism of Sharifs as they carry forward their political godfather Zia s dictatorial legacy while feigning sincerity pic.twitter.com/86EFpyZTvi

— Imran Khan (@ImranKhanPTI) June 29, 2017
---
Nahida Khan makes history
Pakistan eleven are participating in the women s cricket world cup and in their first match this week, against South Africa, Nahida Khan set "the record straight."
Khan knocked 72 off her bat claiming a world record to her name as it is the highest individual score in women s world cup.
In the obvious headlines that followed, Khan was seen accrediting her father for the accomplishment as barring his support it would not have been possible, according to the record-holder.
---
#Pakistan Women have reached 101/4 off 28 overs against #Australia, Nahida leading the way with 51 #PAKvAUS #WWC17 #DunyaUpdates pic.twitter.com/Se5d1MA2Z6

— Dunya News (@DunyaNews) June 22, 2017
---
Bang bang cinema
Admirers, be it those of Lewis Hamilton, Emily Ratajkowski, Elon Musk or Shahrukh Khan, sometimes take it too far. Fandoms, almost everywhere, carry a vibe of abandonment of sense, at times may be ?
Salman Khan starring Tubelight that was released ahead of Eid-ul-Fitr was given a guest appearance in by none other than 'Karan ka Arjun'.
Shahrukh was to appear on screen and cinema-goers were to kick all sense out of the establishment.
Crackers and fireworks in the hall? I am afraid... Yes.
---
Fireworks on the entry of @iamsrk in #Tubelight at Mohan Talkies, Malegaon. This could have been hazardous! #ShahRukhKhan @TubelightKiEid pic.twitter.com/DGXnvU3v8k

— Atul Mohan (@atulmohanhere) June 30, 2017
---
Fact: Since distributors have lost money on Salman s Tubelight, we are yet to see if he will refund 50 percent of the funds like SRK did after Dilwale. Salman is not bound by the contract to refund any amount but it is always a good gesture by any actor. Helps the industry.
To ellaborate, we have Komal Nahta:

11 years of Nicole Kidman and Keith Urban
Kidman and country super star Urban celebrated their 11 years together this week. Urban wrote:
---
Happy Anniversary Babygirl
Eleven years and you still feel like my girlfriend!!! - KU pic.twitter.com/vUy0yDxymu

— Keith Urban (@KeithUrban) June 25, 2017
---
Kidman and the music star are settled in Nashville unlike the Hollywood cream choice, LA or New York City. The two have had their turmoils of relationships. Four months into their marriage in 2006, Urban checked into a rehab for substance abuse and told in an interview later on that he knew, it was either that or was to end.
The two loners did not take much time to get hitched after they went on their first date which was four months after their first ever meeting in a gathering.
Why loners ? Because Kidman observed in an interview that both of them were lonely at the time they met which definitely played a role in their nascent romance.
Messi gets hitched
Soccer stars, by far define what global stardom is. Lionel Messi who has inspired a generation of tomorrow s soccer players has married in a star-studded ceremony in his hometown in Argentina. Antonella Roccuzzo, his childhood special someone whom he met in Rosario (hometown) before moving to Spain at age 13 for soccer, has finally accepted the football freak as her groom.
Reportedly, Neymar among many star athletes and people from showbiz have arrived in Rosario. Many on private jets.
The couple has two children.
Nawaz Sharif skips his grandson's graduation
Straight from Kingdom of Saudi Arabia after performing Umrah, the family flew to London to attend Junaid Safdar's graduation ceremony.
However, criticism from the opposition for not visiting Ahmadpur East tragedy wounded made him turn to Pakistan, missing grandson's graduation ceremony.
However, Maryam Nawaz had a more decent way of saying it.
PM had come to London to attend his grandson s (my son, brought up by him) graduation ceremony, but owing to the tragic incidents in Pak 1/2

— Maryam Nawaz Sharif (@MaryamNSharif) June 25, 2017

He will not be attending the ceremony & is returning to Pak immediately. Says his foremost duty is towards the country & the people. 2/2

— Maryam Nawaz Sharif (@MaryamNSharif) June 25, 2017

Allah is very Kind & Benevolent. May all mothers & sons see this day. Well done my son Am very proud of you pic.twitter.com/HK0QBvRPWZ

— Maryam Nawaz Sharif (@MaryamNSharif) June 28, 2017
London to see 'positive Pakistan'
A month-long campaign was launched in London this week under the name 'Emerging Pakistan' which aims to project positive Pakistan's positive side.
The project helmed by Pakistan High Commission in the United Kingdom (UK) took the initiative in connection with Pakistan turning 70 this August 14.
London double decker buses highlight Emerging Pakistan brand, month long campaign to project positive aspect of Pakistan pic.twitter.com/0Rp0Zm1jnm

— Murtaza Ali Shah (@MurtazaGeoNews) June 27, 2017
Raymond Davis releases a tell-all
After a 2011 incident in Lahore that left two persons dead and a United States (US) covert operative in prison, Pakistan and the US were heading for a gridlock over then foreign minister Shah Mehmood Qureshi's firm stance.
The memoir talks about the roles and the role-players who assisted his release and made happen the 'blood money' deal with survivors of the victims.
Nawaz Sharif, Pasha, then president Zardari, then PM Gilani among others have been 'accredited' for his release and safe return to the US.
However, he maintains that the people who he shot dead were muggers.
---
Now, coupling our buffet with Instagram, we have this week Dwayne Johnson s day off, a Bollywood Eid party and Sonam Kapoor s Sri Lanka trip.
---
The Rock celebrates a day off in weeks
From waking up in what we refer to as the 'wee hours'; around 04:00am, to concluding the day with long shoot schedules and script meetings, Dwayne Johnson has never been tired, we confidently assume because this guy is invariably fresh and to be honest, it is a little annoying because we are left wondering what talisman he has.
You try finding The Rock irritated, burnt out and tired on the Internet and you will pull an empty hand out of the bag. However, big Johnson here had apparently not taken an off in weeks and he was a little burnt out which is why he took a Sunday off this week.
We know he really let his hair down this weekend because what you are seeing sitting next to his greens is not a shot of tequila but a double shot of tequila.
"Spinach salad, baked potato, double shot of tequila, movies on my Mac and a big sexy hunk of dead cow. Been workin for weeks without a day off so this Saturday night celebrating my one day off tomorrow (Sunday) was a long time coming," Dwayne Johnson wrote on Instagram.
Fact: Varun Dhawan is a big WWF and The Rock fan. The guy who watches cartoons a day before shoot of a new movie begins, to keep his mind relaxed, is a big fan of Johnson and his imitation of Johnson's style of trash talk is on point.
---
---
A Bollywood Eid party
From the many Eid parties this week, here is a pick. It s at Shabana G and Javed sb s crib and Tisca Chopra is reporting. We see Aditi Rao Hydari, Ila Arun, Dia Mirza, Richa Chadda, Divya Dutta and many chilling and posing.
---
---
"Khoobsurat" sisters tour Sri Lanka
Sonam Kapoor who Karan Johar hails as the trailblazer of chic fashion today in leading Indian hub of Mumbai and India in general was touring Sri Lanka this week, we learnt.
Rhea and Sonam toured Sri Lanka to celebrate one of their friend s birthday. So it is safe for us to say that India is not obsessed with destination weddings but destination birthdays as well.
The younger of Kapoor sisters told her neighbour Anupam Kher in his show Kuch Bhi Ho Skta Hai that she completed her studies in Sri Lanka. She was joined with cousin Arjun Kapoor on the show that came out in 2014.
---


---


---
---
That is not where all the tourism is to come as Zoya Akhtar of Dil Dhadakne Do, Zindagi Na Milegi Dobara and Luck By Chance fame posted some gorgeous clicks of her Italy tour.


---


---
---
Before we sign off, for our first-timers today, here is what Twitter Buffet offers.
We've got your weekly dose of entertainment, politics, sports and gossips. Your buffet is to have every Saturday at 09:00pm, all the Twitter chirps that you d want to know.
Here at the Twitter buffet corner, we have some core beliefs, rules and expectations:
1- Love everything there is about showbiz.
2- Celebs from whichever hall of fame, are super-humans who defy gravity for breakfast, imagine!
3- Have a go-crazy time here at the corner.
4- Only celebs are to be taken seriously.
5- No one can complain if the buffet has a tilt towards entertainment.
6- We "The Buffoons" will choose reel over real any day and by that we are referring to the very first point.
7- We unabashedly find our strength in the power of fame, beauty and money. But as cliché as it may sound, love is paramount (Bravo for the cover-up).
8- Team vlogs and merchandise are on the cards.
9- We at the corner are always looking forward to fresh celebrity interviews and episodes of talk shows to bring to you the freshest of anecdotes.
10- Twitter Buffet, in a sentence, is yet to be described for it flows with the current of the week.
11- We highly appreciate the story views and support.
---
Team Twitter Buffet signing off... Next Saturday is the day guys.
Twitter Buffet remembers the lives lost in Ahmadpur East tragedy, Quetta and Parachinar bombings. May all the families find peace amongst one another as what is left is hope