Last Updated On 26 June,2017 03:34 pm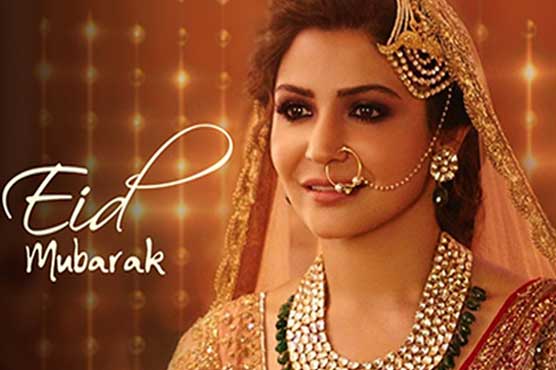 Bollywood celebrities extended their wishes to Muslims on Eid-ul-Fitr.
(Web Desk) – Bollywood celebrities including Amitabh Bachchan, Abhishek Bachchan, Shahid Kapoor, Shabana Azmi, Anupam Kher, Farhan Akhtar, Rishi Kapoor, Varun Dhawan, Sonam Kapoor, Anushka Sharma among others, wished 'Eid Mubarak' to their fans and friends on social media.
Amitabh Bachchan posted an 'Eid Mubarak' picture on Twitter.
T 2466 - Eid Mubarak pic.twitter.com/hDUMh2wCNY

— Amitabh Bachchan (@SrBachchan) June 25, 2017
Veteran actor Shabana Azmi called Eid the official Gluttony day, reminding us of biryani and qorma.
Eid Mubarak sabko.Bring on d Biryani and d Sheer Qorma.Its the official Gluttony Day.If you don t pass out with Food Qorma tto Eid nahi hui

— Azmi Shabana (@AzmiShabana) June 26, 2017
Here's Rishi Kapoor's heartfelt wish:
Wishing all an "Eid Mubarak" in advance before the Twitter gets busy! God Bless you with Health,Peace and Prosperity! pic.twitter.com/ELEXMEMhTP

— Rishi Kapoor (@chintskap) June 25, 2017
Anil Kapoor wrote:
Wishing you all a very happy Eid, And hoping that all the things you wish for will be yours through out the year!! #EidMubarak pic.twitter.com/mMtiguDNoA

— Anil Kapoor (@AnilKapoor) June 26, 2017
Anupam Kher tweeted:
Eid Mubarak to all. Love, peace and happiness always.:) pic.twitter.com/pXbMgdqIrB

— Anupam Kher (@AnupamPkher) June 25, 2017
Bipasha Basu revealed an interesting reason why she looks forward to Eid every year:
In her message, Sonam Kapoor posted a verse from the Holy Quran:
Here's what Anushka Sharma said:
May the goodness and blessings of God be with you all. #EidMubarak to all. pic.twitter.com/oiSnWqNmKw

— Anushka Sharma (@AnushkaSharma) June 26, 2017
Shah Rukh Khan posted a message for his fans on Twitter who gathered outside his residence to greet him:
Coming out in a bit friends https://t.co/RTpJs3cQIJ

— Shah Rukh Khan (@iamsrk) June 26, 2017
Eid-ul-Fitr, the religious festival of Muslims, is celebrated on the first of Shawwal according to the Muslim Hijri calendar, marking the end of the holy fasting month of Ramazan.
The exact date of Eid depends on the lunar cycle, and it is traditionally celebrated for three days – although from country to country, the festival can last anywhere from one to four days.