Last Updated On 22 March,2017 05:34 pm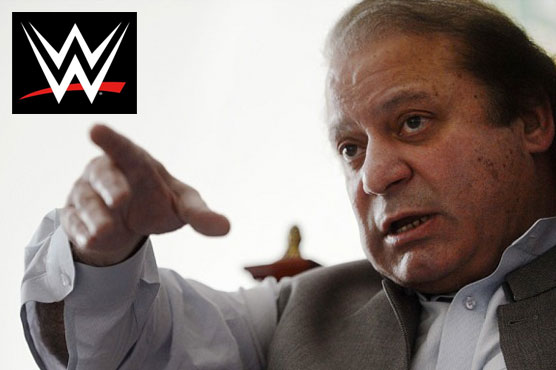 It is still unclear whether the green poster says 'Go Nawaz Go' or 'Behold the Man'
(Web Desk) – Pakistani media reported that 'Go Nawaz Go' poster was seen at the professional wrestling TV series WWE. The green poster popped up earlier this week on Monday Night Raw when the 14-Time World Champion Triple H arrived at the stage to talk about his match against Seth Rollins.
It is still unclear whether the green poster says "Go Nawaz Go" or "Behold the Man" as at one instance, the latter sign also appeared at the same point which confuses people. Because the text on the green poster is too ambiguous, it is difficult to claim that the poster actually calls out PM Nawaz Sharif. Some people claimed the photograph to be photoshopped and far from reality.
---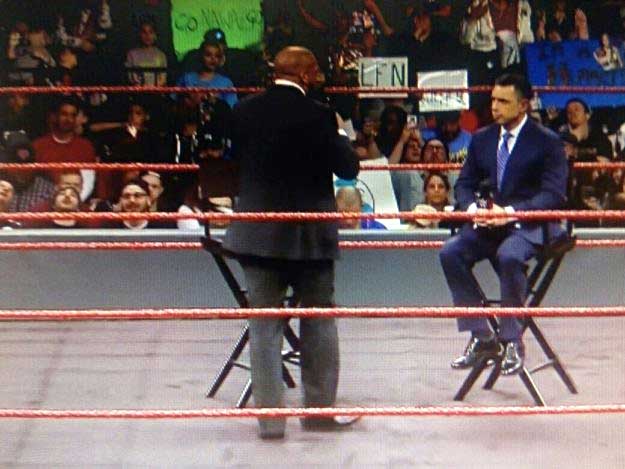 ---
The man who has lifted this strange green poster is either a fan of WWE performer Paul "Triple H" Levesque or not a very big admirer of Nawaz Sharif. It is also possible that the man used both these slogans on either sides of the same poster.
One thing is for certain and it is that the peculiar style of protest against Pakistan Muslim League-Nawaz (PML-N) isn't going to end anytime sooner. The slogan "Go Nawaz Go" is now a trendy catchphrase which people often use regardless of the situation, whether it's the PSL Lahore final or rallies organized by PTI.