Babar needs to put his thinking cap on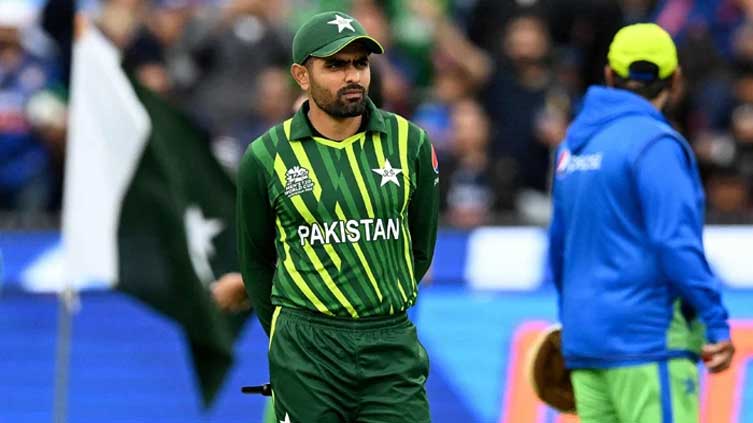 Cricket
By Salman Khan
Cricket fans in Pakistan are in a state of disbelief over the team's exit from Asia Cup. Given the form the team had shown in recent times, it was expected to play final of the coveted tournament with another Asian giant, India.
That's not to be.
Defending champions Sri Lanka held their nerves in the crucial match against Pakistan and achieved the last-ball victory, earning a place in the final being played in Colombo tomorrow (Sunday).
So, what led to Team Green's dismal performance in the tournament – first against India to which they lost by a record 228 runs and then to Sri Lanka who had not been in the best of forms of late.
What went wrong?
Is it irresponsible batting which let Pakistan down? Are bowlers to be blamed for squandering the opportunity to at least make it to the final? Or does the buck stop at fielding?
Oh, rains. Should one pin the blame on rains which proved a spoilsport?
Rain dampens matches
There is no doubt that heavy rains disrupted almost all matches, especially the two encounters between Pakistan and India. The first match was washed out while the second one had to be stretched to the reserve day and in which clinical India outclassed Pakistan in all departments…
Batting, bowling or fielding?
Although Pakistan's batting spearheaded by Babar Azam did not come up to public expectations, the pacers bowled their heart out, which can be borne out by Shaheen Afridi's devastating spell in the opening match against India and even bowling (by pacers) in the death overs against Sri Lanka who otherwise, comfortably came close to the revised target of 252 in the 42-over-a-side match.
Even the fielders performed well in the match against Lankans with some sharp catches and direct hits at stumps.
Read also: Injury-hit Naseem Shah likely to miss World Cup 2023
Babar's captaincy under scanner
Analysts believe it was average captaincy by Babar Azam in both crucial matches against India and Sri Lanka, which led to the unceremonious exit of the national team from Asia Cup – a precursor to the event of events, World Cup.
In the second match against India, Pakistan did make lapses in bowling and fielding against the rival team but skipper's failure to efficiently marshal resources and instill confidence in the team allowed India to post a mammoth 356 – the same score it had previously made against Pakistan. And India handed a 228-run defeat to Pakistan!
Come to think of it, Pakistan set a 252-run target for Sri Lanka in the rain-hit do-or-die match. Exuding confidence, the Sri Lankan batting brigade mounted assault on Pakistani bowlers and were poised to register a convincing win before the bowlers renergised themselves and made the batsmen somewhat retreat.
With an almost less than six an over required run rate, the pacers assisted by agile fielders made a match out of it and carried it to the last ball. It was the phase of the match when skipper Azam needed to show a bit of aggression and put pressure on the chasing side by rotating fielders and bolstering the close-in circle but he seemed to be out of wits.
Even when Sri Lanka needed run a ball in the last over, Azam did not bring fielders inside the circle, allowing the batsmen to achieve the target. The gaps in the field were too visible to be missed as could be seen on the last ball of the match, making it convenient for the batsman to help the team romp home victory.
An aggressive body language is the key to success for any captain but Babar Azam showed no such sign in the all-important match. His performance as captain lacked lustre which is essential to compete in crunch matches.
Read also: Asia Cup: Rizwan, Iftikhar help Pakistan set 253-run target for Sri Lanka
What Gautam Gambhir says
Former Indian cricketer Gautam Gambhir didn't hold back in his assessment of Babar Azam's captaincy. He said: "Babar should have focused on maintaining pressure rather than hunting for wickets in the closing overs, which might have altered the outcome of the game had crucial boundaries not been conceded.
"For me, extremely ordinary captaincy as well," Gambhir remarked.
Pointing out specific instances during the match, he said: "There was a four hit in Zaman Khan's over over mid-off and there was another four hit in Shaheen Shah Afridi's over over mid-off, and both those deliveries were slower ones."
Gambhir argued that adjusting field placements when slower deliveries were being bowled should have been a straightforward decision.
He stated, "If you want to bowl slower ones, keep the mid-off fielder at long-off and bring the third man up. This is extremely simple captaincy. Imagine if you had 13 runs left in the last over, it would have been difficult for Sri Lanka."
The former cricketer also questioned Babar's captaincy strategy during Kusal Mendis and Sadeera Samarawickrama's century partnership.