Babar Azam says he remains uninfluenced by criticism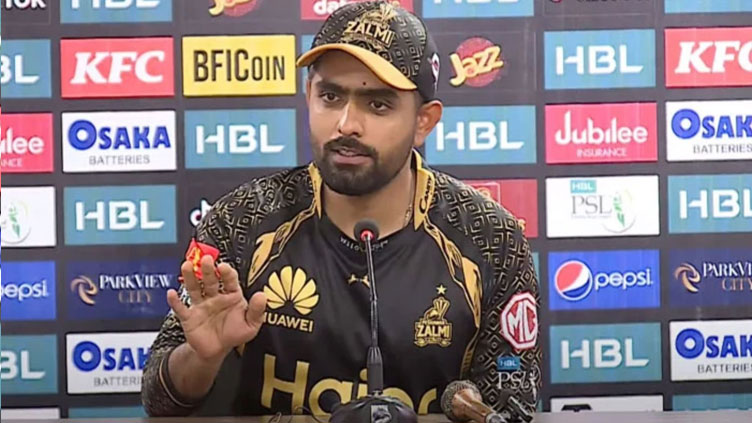 Cricket
Ponting might have seen something in me before praising me
LAHORE (Web Desk) - Peshawar Zalmi skipper Babar Azam said criticism always kept going on and it was impossible that everyone always spoke in your favor.
Azam said he tried to stay positive in every situation as the more positively he perceived things, the more confident he got. "Neither I comment on the criticism nor do I discuss it", he added.
Star batsman said the ex-cricketer critic had his own opinion and mindset adding that he had his own mindset and tried to learn things. "You cannot perform 100 percent every time but what matters is how you learn", he added.
Read Also: Former cricketers polarised over Pakistan's opening pair of Babar Azam, Rizwan

Commenting on his journey as Zalmi's captain, he said he was enjoying a good time adding that they could not showcase good performance in some games. "We have tried to overcome our mistakes", he added.
Talking about the new team, he said they were professional cricketers and it was better for teammates to mingle with the team as soon as possible. "I enjoy a good relationship with Inzamamul Haq and Muhammad Akram while Darren Sammy is an experienced cricketer and I get a lot to learn from him", he added. Ihsanullah and others, he said, are good bowlers, but they cannot be regarded as the best bowlers as they should perform more with consistency. They should learn to play under pressure, he added.
Bringing to light his performance in 2022, he said Allah Almighty had blessed him with the best and he was immensely grateful to Him adding that whatever he achieved was due to his hard work and the goals he had set. Speaking about Ricky Ponting's praise, he said whenever a legend showered praise, it boosted confidence. "Ricky might have seen something in me before praising me", he added.
Sharing his relationship with Mahela Jayawardene and Kumara Sangakkara, he said he learned a lot from them adding that he sought their help whenever he needed it. "I listen to everyone carefully so that I can improve myself", he added.