Ehsan Mani resigns as PCB chairman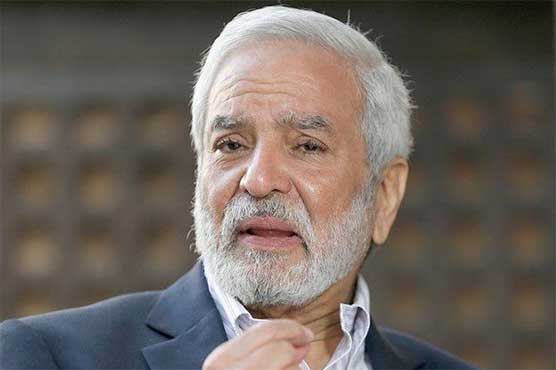 Rameez Raja and Asad Ali have been nominated for the slot.
ISLAMABAD (Dunya News) – Ehsan Mani on Thursday resigned as Pakistan Cricket Board (PCB) Chairman.
Ehsan Mani said that he has informed Prime Minister Imran Khan that he can no longer continue as the chairman.
It merits mention that Ehsan Mani held two meetings with PM Imran Khan and was considered a strong candidate for a second term as Chairman PCB.
As per rules, PM Imran Khan, who is also the Patron-in-chief of the board, has sent names of Rameez Raja and Asad Ali for the post of the PCB chairman to the governing board.
The ten-member governing board includes four independent members, three provisional cricket association heads, and the chief executive officer.
The patron's office has also named former Supreme Court judge, Justice (retired) Sheikh Azmat, as the commissioner to carry out the election of the PCB chairperson.
Earlier this week, former skipper and renowned commentator Ramiz Raja and Ehsan Mani had called on PM Imran Khan at PM House in connection with appointment of the next chairman of the PCB.
Ehsan Mani briefed PM Khan on the matters of the board and the structure of the domestic cricket.
Mani was previously the only candidate to have submitted his nomination papers for the post, and all members of the Board of Governors unanimously voted for him to head the PCB. He had replaced Najam Sethi, who had resigned when Imran s party, Pakistan Tehreek-e-Insaf (PTI), came to power in the federal government.
During his term, Mani revamped the functioning of the PCB, redrafting the board s constitution to bring it in line with the practices of corporate governance.
Until 2019, the PCB chairperson could also act as CEO, which gave them the power to implement whichever of the board s policies they thought were fit. This has since been curbed by introducing the position of a chief executive officer.
The PCB under Mani also brought in enormous changes in the domestic structure, dismantling the previous mix of departmental and regional cricket and implementing the provincial-team model at Imran s insistence.
The change sparked country-wide outrage with the new system costing several players their livelihoods, but the PCB eventually created jobs for all veteran cricketers at the association level, offering them opportunities on various scales ranging from administrative jobs to field jobs.
Mani also put in place a thorough review of Pakistan cricket s biggest revenue-generating product, the Pakistan Super League, and faces a time crunch to revise the financial model of the league.
The PSL is set to reassess the value of its assets this year before selling its commercial and broadcasting rights. The last three-year cycle for the TV and digital streaming rights, worth approximately USD 36 million, has come to an end this year.