Last Updated On 30 June,2019 02:43 pm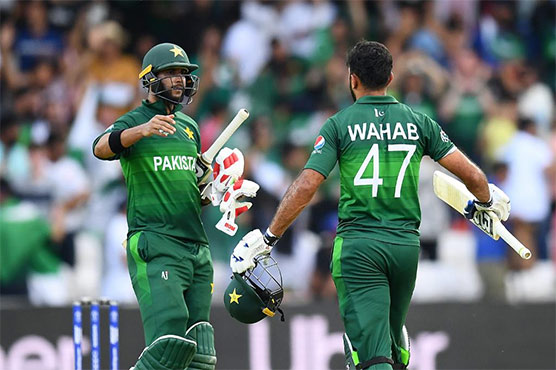 Pakistan looks to stay in the hunt of a semi-final spot as it stands on 4th on the table.
LEEDS (AFP) – Pakistan kept their nerve to avoid a huge shock on Saturday, beating a spirited Afghan side by three wickets with just two balls to spare to keep their World Cup semi-final hopes alive.

PAK vs AFG Full Scorecard:
All-rounder Imad Wasim hit Afghanistan skipper Gulbadin Naib for a boundary through the covers to seal the win off the fourth ball of the last over, prompting a pitch invasion.
Pakistan, chasing a modest 228-run target, were in grave danger at 156 for six but man-of-the-match Imad (49 not out) and Shadab Khan (11) put on 50 for the seventh wicket to revive their hopes.
The win lifts Pakistan into fourth place in the 10-team table, above hosts England after a poor start to the tournament.
"When I went in they were bowling brilliantly but I just hung in there," said Imad. "We wanted to bat out the 50 overs and see.
"Gulbadin (Naib) was the only one who could be targeted. They have world-class spinners so we attacked him. Thank you to the crowd, it feels like home here. They gave us a boost in confidence.
"Win our next game and we ll see what happens. Now we believe we can win from anywhere."
Pakistan were in deep trouble when their captain Sarfaraz Ahmed was run out for 18 while taking a unnecessary second run, leaving Pakistan needing 72 off the last eleven overs.
They took 18 off Naib in the 46th over, which brought the target down to a manageable 28 off four overs.
Shadhab was run out for 11 with the score on 206 but Wahab Riaz (15 not out) and Imad saw Pakistan home and condemned plucky Afghanistan to an eighth consecutive defeat.
"We fight really well, the boys gave 100 percent but in the end we missed an opportunity to win the match," said Afghanistan captain Naib. "Credit to Pakistan, they controlled their nerves.
"We missed again. You can face a lot of these situations, we are working harder and harder. The matches we have lost, we have improved."
---
Sarfaraz hails 'great' win as Pakistan hold their nerve in World Cup thriller
---
Pakistan captain Sarfaraz Ahmed hailed his side's three-wicket victory over Afghanistan at the Cricket World Cup as "a great win" despite a nervy finish on a dramatic day at Headingley.
Imad Wasim's unbeaten 49 made sure Pakistan moved into the top four of the table after falling to 156-6 when chasing a modest total of 228.
Fans then spilled onto the pitch in chaotic scenes after the winning runs were struck.
There were also ugly scenes before the match on Saturday when police had to intervene after violent clashes between rival supporters outside the ground.
"It is a great win for us on not an easy pitch," said Sarfaraz. "We know it was not an easy target. Their bowlers used the conditions very well. Everyone chipped in, it was good team work."
After a terrible start with just one win from their opening five matches, Pakistan have now won three in matches in succession to leapfrog hosts England into fourth place.
A semi-final place is still in England's hands, but they face the daunting task of having to beat at least one and most likely both of India and New Zealand in their final two fixtures.
"We all know that it is not easy to win our last four games, we go match by match," added Sarfaraz, whose side face Bangladesh in their final group game. We will all be watching India v England tomorrow."
Afghanistan captain Gulbadin Naib was left to regret bringing himself on to bowl at the death.
With the run rate spiralling, his penultimate over went for 18 runs.
Team Pakistan: Imam-ul-Haq, Fakhar Zaman, Babar Azam, Mohammad Hafeez, Haris Sohail, Sarfaraz Ahmed (c, wk), Imad Wasim, Shadab Khan, Mohammad Amir, Wahab Riaz, Shaheen Afridi
Team Afghanistan: Gulbadin Naib (c), Rahmat Shah, Hashmatullah Shahidi, Asghar Afghan, Samiullah Shinwari, Mohammad Nabi, Najibullah Zadran, Ikram Alikhil (wk), Rashid Khan, Hamid Hassan, Mujeeb Ur Rahman
Pakistan have a 4-5 win-loss record at Headingley in ODI contests. In World Cup games however, ther have a winning 3-2 record here.
Afghanistan have lost the most wickets - 47 - to fast bowlers in this World Cup.
Afghanistan, appearing in just their second World Cup since their debut in 2015, are playing for pride after losing all seven of their matches so far. Many Afghanistan players learned the game growing up as refugees in Pakistan.
---
'We learnt a lot of cricket in Pakistan'
---
Afghanistan captain Gulbadin Naib diminished political tensions between the two countries, saying that he hoped cricket could build bridges.
"If you look at our cricket, we learnt a lot of cricket in Pakistan and we also played cricket in Pakistan," Naib said. "We are also hoping cricket is one thing that can keep a good relationship for anyone, any other country. So I am hoping that not only with Pakistan, but with India, Sri Lanka and other countries."
---
Pakistan keeping close eye on Afghanistan's spinners
---
Pakistan have spared no effort in their preparations to take on Afghanistan's spinners in Saturday's World Cup clash that could be crucial to their hopes of making the semi-finals, batsman Haris Sohail said on the eve of the contest.
Back-to-back wins against South Africa and New Zealand have given the former champions a chance of making the knockouts but they must beat Afghanistan and Bangladesh in their final two games and hope other results go their way to advance.
Sohail, who was dropped after their opening defeat by West Indies but returned to the side scoring 89 and 68 in the last two matches, said Pakistan had to keep a close eye on spinners Rashid Khan and Mujeeb Ur Rahman who could hurt their chances.
"We've kept it very simple. We're going from match to match. They have quality spinners and we've seen a lot of videos and we've worked from them. And hopefully we'll see a good match," Sohail told reporters.
Sohail scored only one run when Pakistan lost their warm-up match to Afghanistan last month, but the 30-year-old said he had no doubts about his ability on the big stage.
"From the last series against Australia I have been playing very well, and this time they've given me the different role... bat at four or five," Sohail added.
"I'm going with my plan and we have to assess the situation and I will play accordingly."
Meanwhile, Afghanistan skipper Gulbadin Naib said his team will fancy their chances on a Headingley wicket that could assist his spinners.
Afghanistan are looking to finish on a high after losing all their seven games.
"If you look at similar conditions, it is certainly in our favour, it's good for our spinners," he said.
"Sohail played really well in the last two games and Babar Azam too. Rashid is a different spinner, a different bowler to other spinners. So it's difficult to pick him."
---
ICC approves Shirzad as Alam's replacement in Afghanistan squad
---
Afghanistan's Sayed Ahmad Shirzad has been approved as fellow paceman Aftab Alam's replacement for the remainder of the World Cup, the International Cricket Council (ICC) said on Thursday.
The ICC said Alam, who had taken four wickets in three matches during the tournament, had been replaced under "under exceptional circumstances" without providing details.
Shirzad has played only one ODI in his career but is in line to feature in Afghanistan's remaining two games against Pakistan today and West Indies on July 4.
---
Refugee camps
---
Cricket became popular in Afghanistan after the Soviet invasion of 1979, with young people learning the sport in refugee camps on the Pakistan border.
All-rounder Mohammad Nabi and leg-spinner Rashid Khan started playing the game in Peshawar while the Pakistan Cricket Board helped Afghanistan cricket by providing equipment and playing opportunities.
Two former Pakistan internationals – Kabir Khan and Rashid Latif – have played key roles in the development of Afghanistan as coaches over the past decade.
But the lingering tensions mean that Afghan players are reluctant to draw attention to their association with Pakistan and often show more of an affiliation with Pakistan's arch rivals, India.
On the pitch, Afghanistan beat their formidable rivals in a pre-World Cup warm-up match, but they have lost all three official one-day internationals between the two sides.
Despite this winning record, Pakistan skipper Sarfaraz Ahmed warned his players not to take Afghanistan lightly.
"We know they have quality spinners in their team," said Sarfaraz, referring to Rashid, Nabi and Mujeeb Ur Rahman. "We can't take them lightly because a team such as Afghanistan can be dangerous."
"We have staged a comeback with a strong belief that we can win and then our way to the semi-final is paved, but at the moment we have only Saturday's game on our minds," he added.
Pakistan's last match of the round-robin phase is against Bangladesh, which could turn into another virtual quarter-final at Lord's on July 5 as they target the semi-finals.
Afghanistan's sights are set lower but they have a long-term dream.
Naib said he hoped playing at tournaments such as the World Cup would boost the standard of the game in Afghanistan.
"We want more matches to build our cricket so it's really good for us to play a lot of cricket with them (major nations)," said the Afghan skipper
---
Pakistan fans spooked by freakish similarities to 1992
---
Predicting the results of the famously fickle Pakistan is always a tricky task but fans have been struck by an eerie similarity at this World Cup to their triumphant 1992 campaign and hope it continues all the way to the final.
Pakistan's loss-win-washout-loss-loss-win sequence in their first six matches in England mirrored their stop-start run 27 years ago in Australia.
Just like in 1992, they also ran into a New Zealand side hitherto unbeaten in the tournament and, uncannily enough, pulled off a victory on Wednesday to fuel hopes of a late run into the semi-finals.
Babar Azam smashed an unbeaten century and Haris Sohail provided the middle-order steel with his second successive fifty after fast bowler Shaheen Afridi had wrecked the Kiwi batting order.
Leading the tributes to their stunning turnaround was Imran Khan, the captain of the victorious 1992 team and now their Prime Minister.
"Congratulations to our cricket team for a great comeback. Congratulations especially go to Babar, Haris and Shaheen for their brilliant performances," Khan tweeted.
Pakistan, currently sixth in the points table with matches against Bangladesh and Afghanistan to play, still have an uphill struggle to make the last four.
The spooky parallels have already spawned numerous memes on social media, with some of their long-suffering fans beginning to believe the stuttering run might culminate with them winning their second World Cup title next month.
Some have even gone further and predicted that if that happens, captain Sarfaraz Ahmed, following in Khan's footsteps, would go on to become the country's prime minister in 2045.
Leading a side still unsure of a place in the semi-finals, Sarfaraz is naturally not getting too ahead of himself.
"We are not thinking about 1992, we are going match by match," the wicketkeeper-batsman said after the six-wicket victory over New Zealand.
The jubilation among fans is in contrast to their mood after they lost to arch-rivals India in the June 16 contest in Manchester.
Irate fans questioned the players' professionalism and even mocked Sarfaraz in London.
Back-to-back victories since then have lifted the gloom and several former players took to Twitter to congratulate the team.
"Never corner Pakistan. We become tigers when you do that. Congratulations & well done boys," former fast bowler Shoaib Akhtar wrote.
"Pakistan keep the dream alive," tweeted former captain Wasim Akram.