Yuan drags dollar to fresh lows, yen too grows stronger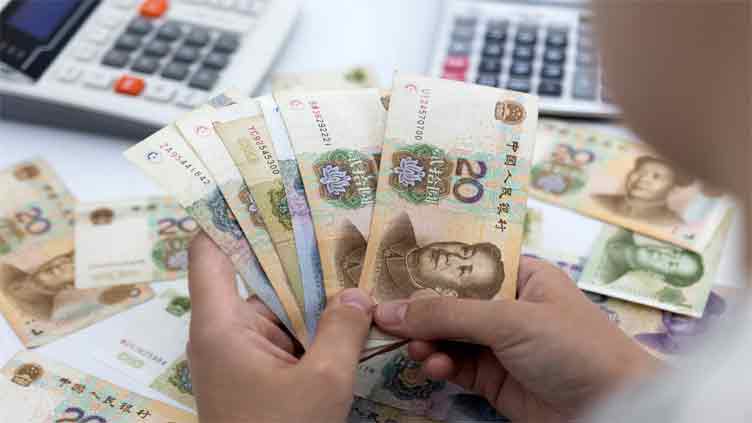 Business
Bloomberg News says Chinese regulators are drawing up a list of 50 developers eligible for funding
SINGAPORE (Reuters) - The dollar slipped to fresh milestone lows on the euro, yen and other major currencies on Tuesday, as China guided the yuan higher and its strength spurred broader softness for the dollar ahead of minutes from the Federal Reserve.
China's central bank set the midpoint of the yuan's trading band at its strongest since Aug 7. The yuan hit an almost four-month high of 7.1301 to the dollar in early trade.
The euro rose 0.2 per cent to $1.0963, its highest since mid-August and the dollar was testing or breaking chart support on almost every major pair. The yen rose more than 0.5pc to its strongest in seven weeks at 147.5 per dollar by 1pm Pakistan Standard Time.
The New Zealand dollar broke through resistance around $0.6050 to trade 0.6pc higher at a three-month high of $0.6072 by mid-session in Asia. The Australian dollar rose 0.4pc with the tide to hit a three-month high of $0.6585.
China's firm currency fixing came together with a Bloomberg News report on forthcoming support for the property sector which boosted stocks and the mood, said National Australia Bank strategist Rodrigo Catril in Sydney.
"It's encouraging the market to think: 'OK, cool, we've seen the worst of CNY weakness,'" he said, using the currency's ticker.
"They're telling us they want dollar/CNH lower."
Bloomberg News reported Chinese regulators are drawing up a list of 50 developers eligible for funding, citing people familiar with the matter.
At the same time, US yields have fallen in anticipation that US interest rates have peaked, the yen is showing signs of turning and the Aussie is riding an extra tailwind while prices for top export iron ore hit multi-year highs.
Minutes of Australia's November policy meeting showed that the central bank was concerned inflation expectations could become unmoored if it did not raise interest rates.
The dollar index, which has fallen in seven of the past eight sessions, broke below its 200-day moving average on Monday and was down 0.2pc at 103.2 on Tuesday, a 2-1/2-month low.
Sterling rose 0.3pc to a two-month high of $1.2540. The Swiss franc hovered near its highest since early September. Trade in Scandinavian currencies tends to be light in Asia hours, but the Swedish crown hit a 3-1/2-month high and the Norwegian crown a two-month high.
Markets have all but priced out the risk of a further US rate hike in December or next year, and imply a 1-in-4 chance of an easing starting in March.
Fed minutes are due at 1900 GMT and headline the day ahead, along with a speech from European Central Bank President Christine Lagarde. Analysts caution that the dollar's downward momentum may not have too much further to run.
"I think there needs to be a reality check on the fact that the Fed's take on hawkish bias is not independent of where yields go," said Mizuho Bank's Asia head of economics, Vishnu Varathan.
"There will be a self-checking mechanism if yields fall too much," he said. "That means the dollar's fall might also be impeded, and it's premature to declare anything one way or another until we see the December (Fed meeting)."
Today's minutes, he said, might be significant if there are changes to the language around the bond market, particularly since bonds have rallied so hard since the Fed met at the end of last month.
Ten-year Treasury yields are down almost 50 basis points to 4.40pc in November so far.
Asia's emerging market currencies also advanced to fresh highs, though focus will fall on Argentinian markets later in the day where domestic trade is set to resume after the election of libertarian Javier Milei as president.