Shares sluggish, dollar dips as markets eye Fed rate cuts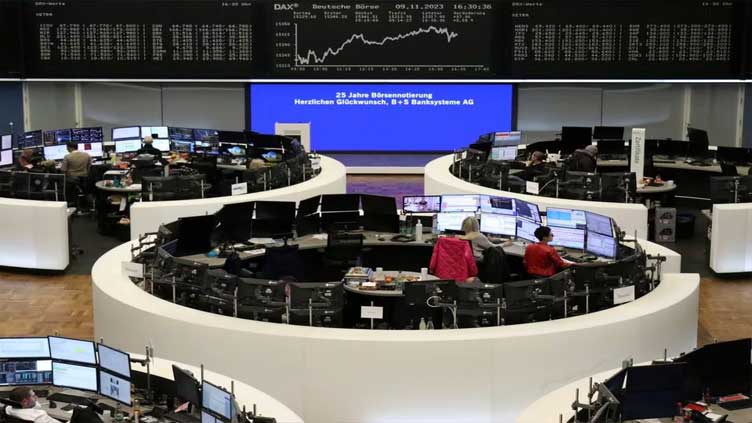 Business
Shares sluggish, dollar dips as markets eye Fed rate cuts
SYDNEY/LONDON (Reuters) - Shares were generally flat on Monday in thin trading ahead of the US Thanksgiving holiday on Thursday and in the absence of major data releases that could give markets direction, while the dollar slipped against major currencies.
Europe's benchmark STOXX index was down just 0.04%, with US futures looking set to follow suit.
The dollar index bottomed out at 103.53, its weakest level since the start of September, as investors appeared to solidify bets that US interest rates have peaked and that the Federal Reserve could start cutting rates next year.
Asian stock markets earlier in the day were livelier as Japanese shares hit highs not seen since 1990, thanks to strong earnings and offshore demand which fuelled a three-week winning streak.
Japan's Nikkei (.N225) ran into profit-taking at the peak but was still up 8.2% for the month so far with the Topix (.TOPX) not far behind.
MSCI's broadest index of Asia-Pacific shares outside Japan (.MIAPJ0000PUS) gained 0.8%, having climbed 2.8% last week to a two-month high.
Meanwhile, there were media reports that Israel, the United States and Hamas had reached a tentative agreement to free dozens of hostages in Gaza in exchange for a five-day pause in fighting, but no confirmation as yet.
Black Friday sales will test the pulse of the consumer-driven US economy this week, while the upcoming Thanksgiving holiday made for thin markets.
The flow of US economic data turns to a trickle this week, but minutes of the Federal Reserve's last meeting will offer some colour on policymakers' thinking as they held rates steady for a second time.
Signs of progress in the battle against inflation, in the United States have driven a recovery in stocks this year as investors hope for an end to the cycle of rate hikes that have been policymakers' main tool for fighting price increases on goods.
The S&P is now up nearly 18% for the year and less than 2% away from its July peak.
Yet analysts at Goldman Sachs note the "Magnificent 7" mega-cap stocks have returned 73% for the year so far, compared with just 6% for the remaining 493 firms.
"We expect the mega-cap tech stocks will continue to outperform given their superior expected sales growth, margins, re-investment ratios, and balance sheet strength," they wrote in a note. "But the risk/reward profile is not especially compelling given elevated expectations."
Tech major Nvidia (NVDA.O) reports quarterly results on Tuesday, and all eyes will be on the state of demand for its AI-related products.
A LOT PRICED IN
Markets have all but priced out the risk of a further US rate hike in December or next year, and imply a 30% chance of an easing starting in March. Futures also imply around 100 basis points of cuts for 2024, up from 77 basis points before the benign October inflation report shook markets.
That outlook helped bonds rally, with 10-year Treasury yields at 4.45% having dropped 19 basis points last week and away from October's 5.02% high.
There was relief in Europe as well for some battered sovereign names, as the risk premia investors asked to hold Italian and Portuguese debt fell after rating agency Moody's upgraded its view of the two countries.
It upgraded the outlook for Italy from negative to stable, and pushed Portugal's long-term issuer rating up two notches to A3 from Baa2, narrowing the spreads on both bonds relative to the region's benchmark German 10-year bonds.
Closely watched surveys of European manufacturing are due this week and any hint of weakness will encourage more wagers and early rate cuts from the European Central Bank.
"These surveys will be very important around the Euro area services sector given the sharp deterioration seen recently," said analysts at NAB. "If another soft print eventuates, expect pricing for ECB cuts to extend beyond the current 100bps of cuts being priced for 2024."
Markets imply around a 70% chance of an easing as soon as April, even though many ECB officials are still talking about the need to keep policy tight for longer.
Sweden's central bank meets this week and may hike again, given high inflation and the weakness of its currency.
In commodity markets, oil rebounded from four-month lows on Friday amid speculation that OPEC+ will extend, or increase, its production cuts at a meeting on Nov. 26.
Brent added 60 cents to $81.08 a barrel, while US crude firmed 31 cents to $76.2 per barrel.
Gold was slightly down at $1,978 an ounce, having climbed 2.2% last week.