Exchange of fire: Miftah says budget isn't sustainable, Dar ridicules default mongers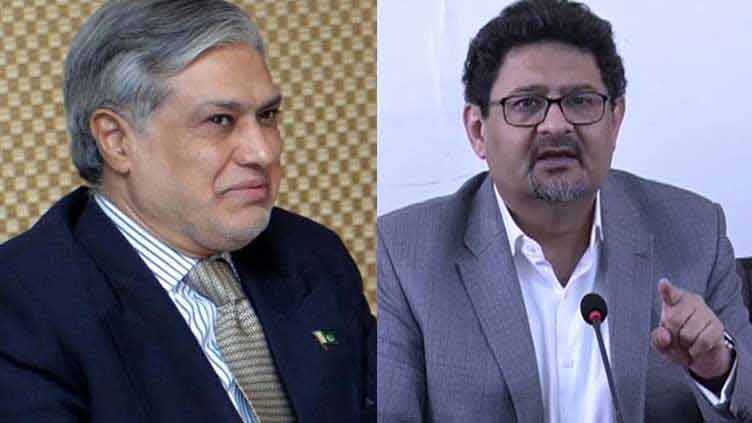 Business
Finance minister says Pakistan won't default by September or December
KARACHI/ISLAMABAD (Web Desk) – Finance Minister Ishaq Dar on late Friday said those behind the running the "Reimagining Pakistan" movement should stop frightening the people with the notion that the country would soon default, just hours after Miftah Ismail claimed that the budget was not sustainable.
It is the latest indirect exchange of fire between the current and the former finance ministers who belonged to same ruling party – PML-N – but have completely opposite views on how the economy should be run.
Dar was expressing his views during an interview during which he defended his policies and the next year's budget he tabled in the National Assembly earlier in the day.
He said Pakistan would neither default by September or December – a clear reference to the dates given by Miftah who has been a great advocate of accepting all the conditions set by IMF (International Monetary Fund) and also of free market with very little government regulation, including the dollar exchange rate.
Read more: Miftah sees IMF deal inevitable to avert default
On the other hand, Miftah, in his comments, said the budget was not sustainable because of the way the government was increasing taxes and giving money to the provinces – again showing his anti-18 Amendment stance which is creating resentment among the smaller provinces.
Miftah, who faced severe backlash from within his own party and ultimately resulted in his removal from the cabinet for increasing the utilities prices, was also critical of the government for the 30-35 per cent increase the salaries of government officials.
Soon after losing his position as the country's finance minister, Miftah has been blasting his own party's government, which has naturally resulted in a very clear response.
That's why Defence Minister Khawaja Asif had recently urged Miftah to stop public criticism on the government economic policies and reminded him that the PML-N had twice entrusted him with the finance ministry.
Read more: Asif urges Miftah to stop public criticism on govt's economic policies
While acknowledging that Miftah's right to be upset over his removal from the ministry, he argued that targeting the party had no justification.