China's yuan weakens to 2-month low, with key 7-per-dollar level in sight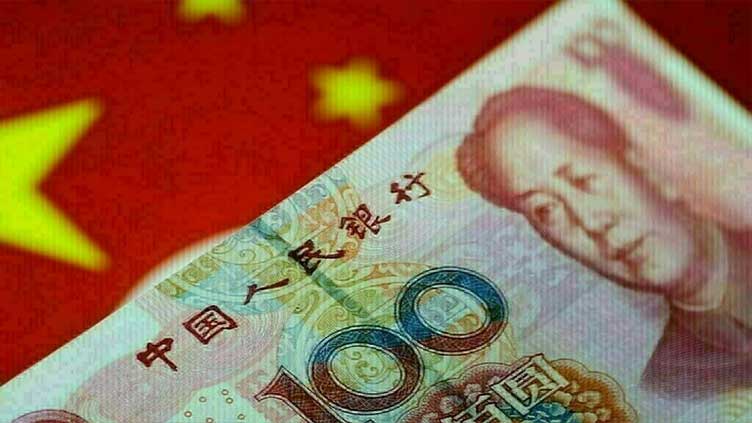 Business
China's yuan weakens to 2-month low, with key 7-per-dollar level in sight
SHANGHAI (Reuters) - China's yuan weakened to a more than two-month low against the dollar on Wednesday, approaching the threshold of 7 per dollar and pushed lower by broad greenback strength following Federal Reserve Chair Jerome Powell's hawkish rhetoric on U.S. interest rates.
The dollar was pushed to three-month peaks by Powell's warning that interest rates might need to go up faster and higher than expected to rein in inflation.
The broad dollar strength pushed down the official yuan guidance rate and the spot market. Before the market opened, the People's Bank of China (PBOC) set the midpoint rate at 6.9525 per dollar, which was 369 pips or 0.53% weaker than the previous fix of 6.9156 and the weakest in more than a week.
In the spot market, the onshore yuan opened at 6.9750 per dollar and fell to a low of 6.9782 in early trading, the weakest level since Dec. 29, 2022. At midday it traded at 6.9755.
Its offshore counterpart followed the weakening trend to hit a low of 6.9952 per dollar, just steps away from the psychologically critical level of 7 per dollar. At midday, it was at 6.9876.
Traders said the firmer dollar and hawkish U.S. monetary tightening outlook could pressure the yuan to weaken past 7 per dollar in the near term.
"It's mainly driven by the strong dollar," said a trader at a foreign bank.
Financial market participants have long believed that a breach of the threshold could trigger expectations of heavy yuan depreciation and therefore risk capital outflow.
Yi Gang, governor of the central bank told a news conference last week that 7 per dollar was not a "psychological barrier".
Ken Cheung, chief Asian FX strategist at Mizuho Bank in Hong Kong, said the yuan had enough downside pressure to breach the 7 per dollar level.
"Just as the central bank has said, the 7 is no longer a psychological threshold," Cheung said.
"But if the dollar is getting too strong, the Chinese central bank may take action to slow down the pace of depreciation," he said, noting the PBOC has been more concerned about the pace of one-way movements rather than any specific levels.
However, some Chinese companies are holding on to dollar revenues from exports, while others are turning to foreign exchange hedging in anticipation of a fall in the value of the yuan, according to executives, bankers and data analysed by Reuters.
Prospects of a further widening yield gap between the U.S. and China also put downward pressure on the forwards market, with one-year dollar/yuan swap points falling to -2,080 points in morning deals, the lowest since Nov. 30.
While the U.S. is expected to push interest rates higher for longer, some analysts still see room for China to maneuver its monetary policy to aid economic recovery.
"Given China's increasing issuance of government (bonds) this year, we think monetary policy will remain supportive to work hand in hand with proactive fiscal policy," analysts at OCBC Bank said in a note on Tuesday.
"As such, we believe there is still room for further reserve requirement ratio (RRR) cuts and interest rate cuts if needed."