Govt envisages cut in defence budget amid economic woes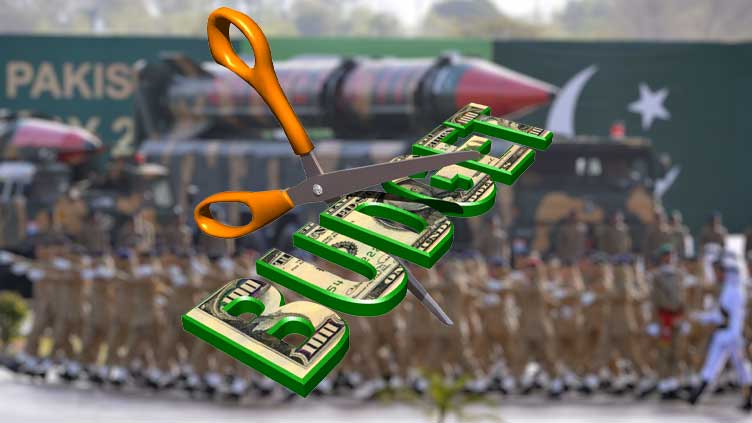 Business
Govt to cut down defence budget amid economic crisis
ISLAMABAD (Dunya News) – The government on Saturday decided to decrease country's defence budget as the economy struggles to cope with rising debt, global inflation and political instability.
Sources said it had been decided to reduce the expenditure of the army by 35 per cent on petroleum products and 35 to 40 per cent on the utility bills. Reduction in expenditure on food allowance and food items in the defence budget would save more than Rs20 billion.
Sources further said a ban had also been imposed on all sorts of non-operational spending in the army and import of defence and military equipment would be in local currency or currency swap. It has also been decided to increase modern technology and online meetings for trainings, and reduction all kinds of expenses had been implemented immediately to improve the country's economy.
Earlier this week, Prime Minister Shehbaz Sharif unveiled austerity measures that would save Rs200 billion per year. He admitted that the move would not significantly improve the economic condition of the country but it is a gesture to show the inflation-stricken citizen that the government remains empathetic to their concerns. He also announced that the ministers, state ministers and special advisers to the premier would forego their salaries and perks as part of the austerity.
Read More: Cabinet members to forgo salaries, perks amid govt's austerity endeavour
Pakistan's foreign exchange reserves, which fell to a critically low level of USD 2.9 billion a few weeks ago, have now risen closer to USD 4 billion, even as the country eagerly waits for the USD 1.1 billion tranches of funding from the International Monetary Fund (IMF).
On Friday, Pakistan received a new $4 billion loan from China to help shore up its foreign exchange reserves, in another step to help the Islamabad recover from an economic crisis.
The credit facility, made through the state-owned China Development Bank has boosted Pakistan's forex reserves to $4 billion and comes as the country is thrashing out a deal with the International Monetary Fund (IMF) to unlock funds from a $6.5 billion bailout.
Sources privy to the State Bank of Pakistan (SBP) said that the money was transferred by China Development Bank after the rollover agreement.
Sources further said that an agreement had been reached between Pakistan and China in this regard.
"The foreign exchange reserves of Pakistan have reached close to $4 billion after receiving the money.
Previously, while addressing the cabinet, Prime Minister Shehbaz Sharif said that he was hopeful of reaching a deal with the IMF as soon as the country completes a series of steps demanded by the lender.
Pakistan is struggling with its worst economic crisis in decades and its foreign exchange reserves, at their lowest in 10 years, are only enough to pay for less than three weeks' worth of imports. Meanwhile, fiscal adjustments demanded by the IMF are fuelling decades-high inflation.
On Wednesday, the country's international bonds extended their decline with the 2027 dollar-denominated bonds dropping more than 1.2 cents in the dollar to trade just over 40 cents.