Russian rouble fights imminent new sanctions threat to strengthen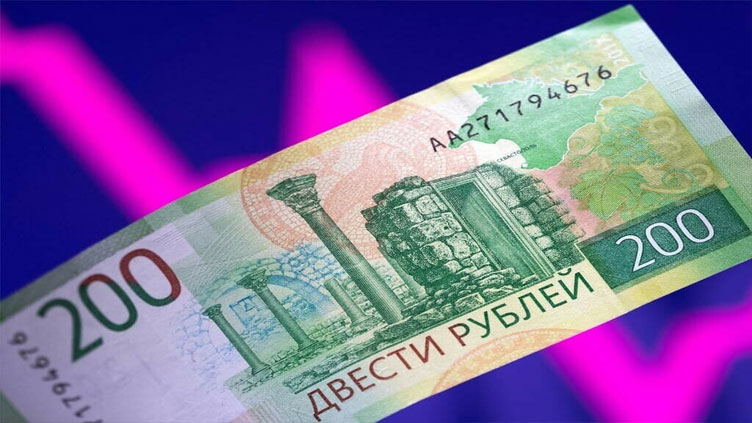 Business
Russian rouble fights imminent new sanctions threat to strengthen
MOSCOW (Reuters) - The rouble strengthened on Wednesday, pulling away from near 10-month lows on the prospect of upcoming month-end tax payments, but held back by the threat of more sanctions against Moscow, expected this week.
At 0710 GMT, the rouble was 0.6% stronger against the dollar at 74.63, pulling away from the 75.30 mark, its weakest since April 25, hit during trading on Friday.
It had gained 0.8% to trade at 79.50 versus the euro. It had firmed 0.3% against the yuan to 10.82.
The rouble should fluctuate near 74-75 against the dollar this week, with risks of further depreciation still lingering, said BCS World of Investments.
"However, rouble volatility will continue to be partially smoothed by the budget rule and (the) upcoming favourable end-month tax period," BCS added.
Geopolitical uncertainty over the conflict in Ukraine, now almost one year long, and the promise of more sanctions against Moscow continues to weigh on Russian assets.
President Vladimir Putin on Tuesday suspended a landmark nuclear arms control treaty, announcing that new strategic systems had been put on combat duty, and threatened to resume nuclear tests.
The European Union is close to a 10th sanctions package against Russia and EU governments hope to reach a deal on Wednesday if they can overcome differences about a ban on Russian rubber and diamond imports.
The rouble is usually in greater demand before month-end tax payments, when exporters typically convert their foreign currency revenue. Taxes are due this month on Feb. 28.
The finance ministry will hold two OFZ treasury bond auctions later on Wednesday.
The Russian market will be shut on Thursday as Russia celebrates Defender of the Fatherland day and open for only limited trading on Friday.
Brent crude oil, a global benchmark for Russia's main export, was down 0.4% at $82.7 a barrel.
Russian stock indexes were mixed.
The dollar-denominated RTS index was up 0.4% to 932.5 points. The rouble-based MOEX Russian index was 0.2% lower at 2,208.5 points.