'IMF delegation to discuss outstanding issues with Dar on sidelines of Geneva conference'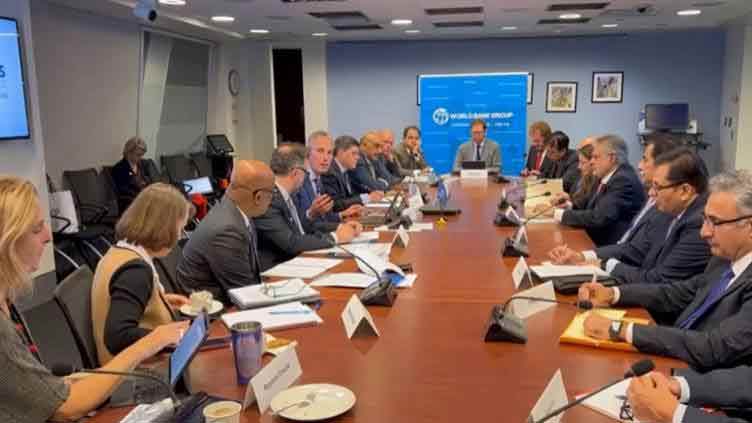 Business
'IMF delegation to discuss outstanding issues with Ishaq Dar on sidelines of Geneva conference'
ISLAMABAD (Web Desk) - The IMF spokesperson on Sunday said Finance Minister Ishaq Dar would discuss outstanding issues with the lender s delegation on the sidelines of the upcoming Geneva conference.
Co-hosted by the Government of Pakistan and the United Nations, the International Conference on Climate Resilient Pakistan will be held in Geneva on January 9 (Monday).
The moot aims to bring together government representatives, leaders from the public and private sectors and civil society to support the people and the government after the devastating floods of 2022.
The development comes two days after Prime Minister Shehbaz held telephonic call with IMF chief.
On Saturday, the premier said an IMF delegation would also visit Pakistan to finalise the ninth review of Pakistan's $7 billion Extended Fund Facility (EFF).
He said he [Shehbaz] had told the managing director of the International Monetary Fund (IMF) about the government's resolve to complete the terms of IMF's programme.
On his Twitter handle, the prime minister said he had held a telephonic conversation with the IMF MD on Friday. "I also explained Pakistan's economic difficulties especially after the devastating floods. IMF delegation will come to Pakistan soon," he added in a tweet.
The prime minister thanked the managing director for her concern over the fallout of the floods and extended invitation to her to participate in the Climate Resilient Pakistan Conference at Geneva. The IMF MD thanked the prime minister for the invitation but explained that as the IMF Board meetings had been prefixed for Monday and Tuesday, she would only be able to join the conference virtually.
The prime minister assured the official that Pakistan was committed to successfully completing the ongoing IMF programme and thanked her for her understanding and empathy of the challenges that Pakistan had been facing.
According to Reuters, the IMF is yet to approve the release of $1.1 billion originally due to be disbursed in November last year, leaving Pakistan with only enough foreign exchange reserves to cover one month s imports.
The floods killed at least 1,700 people and caused billions of dollars of damage to critical infrastructure.
A plan laying out a timeline and the financing of the rebuilding effort has been a sticking point in talks to clear the ninth review that will release $1.1 billion in IMF funds and unlock other international funding too.
Ishaq Dar has been critical of the IMF lately, publicly saying that the lender was acting "abnormally" in its dealings with Pakistan, which entered the $7 billion bailout programme in 2019.
The IMF spokesperson also said its Managing Director Kristalina Georgieva had a "constructive call" with Sharif regarding the Geneva conference and supported Pakistan s efforts to rebuild.