Published On 11 June,2021 06:35 pm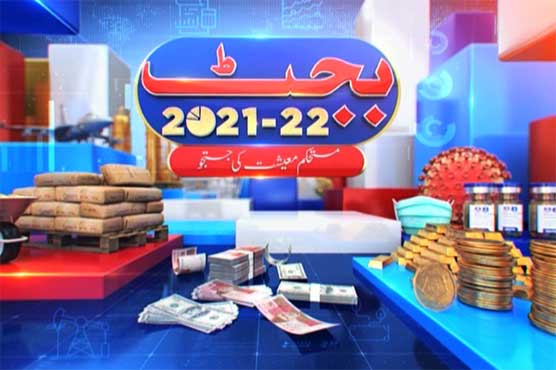 GDP growth target set at 4.8pc
ISLAMABAD (Dunya News) – A pro-people, business friendly and growth oriented federal budget for fiscal year 2021-22 with a total outlay of Rs 8,487 billion has been announced.
READ COMPLETE BUDGET 2021-22 SPEECH BELOW:
During his speech in the National Assembly, Minister for Finance Shaukat Tarin said the budget focuses on Prime Minister Imran Khan s vision of a strong and sustainable growth driven Kamyab Pakistan.
The finance minister said the government has fixed 4.8 percent growth target for the next financial year, which would be broad based as it would encompass all the key sectors of the economy.
He said we intend to undertake a series of measures to achieve six to seven percent growth over the next two to three years.
The Minister said an agricultural transformational plan has been devised to increase productivity. Under this plan, support will be provided from water to seeds, fertilizer, agri-credit, tractors and machinery, commodity warehousing, cold storage and food processing industry.
He said we are investing in establishment of Special Economic Zones, supporting new exports in IT sector and agro-based industries to increase our exports. He said we are endeavoring to make CPEC a platform where industries will be relocated. This, he said, will provide employment opportunities and bolster our exports. In addition, we will expend earnest efforts in promoting Foreign Direct Investment in export sector.
The finance minister said the government is placing highest priority to uplift the agriculture sector. He said Rs 12 billion are being allocated for various agri-related initiatives. These include Rs 1 billion for locust emergency and food security projects; Rs 2 billion for enhancing productivity of rice, wheat, cotton, sugarcane and pulses; Rs 1 billion for enhancing oil cultivation on commercial scale and Rs 3 billion for improvement of water courses.
Shaukat Tarin said a total of Rs 91 billion are proposed in the budget for ensuring water security, excluding hydel energy generation projects. Rs 57 billion are being allocated for Dasu Hydropower project, Rs 23 billion for Diamer-Bhasha, Rs 6 billion for Mohmand Dam and Rs 14 billion for Neelum-Jhelum hydropower project.
The minister said Rs 118 billion have been allocated in the budget to ensure energy security. He said Rs 7.5 billion have been earmarked for 1000 KVs Islamabad West and Lahore North transmission lines; Rs 8.5 billion for evacuation of 2160 MW of power from Dasu; Rs 5.5 billion for evacuation of power from Suki Kinari, Kohala, Mahal Hydropower project, and Rs 12 billion for secondary transmission lines in Hyderabad and Sukkur. He said we will invest in completing the 1200 MW of coal-fired power projects in Jamshoro for which Rs 22 billion will be allocated. Rs 16.5 billion are being proposed for K-I and K-II in Karachi and fifth extension of Tarbela Hydropower project.
Referring to the special development packages announced for different regions, the finance minister said Rs 20 billion have been earmarked for accelerated development plan for Southern Balochistan, Rs 25.4 billion for Karachi Transformation Plan, Rs 40 billion for socio-economic development of Gilgit-Baltistan and Rs 19.5 billion for development of different districts of Sindh. He said the government attaches special attention to the development of tribal districts and has increased allocation for them to Rs 54 billion. This includes Rs 30 billion for 10 yea development plan.
He said the government has made social sector improvement the key priority in areas like health, education, sustainable development goals, climate change for which 118 billion rupees have been proposed in the PSDP. This includes Rs 30 billion for health, Rs 44 billion for higher education and Rs 68 billion for achievement of SDGs.
Shaukat Tarin said $1.1 billion will be spent on importing COVID-19 vaccine besides providing funding for local production of anti Covid vaccine. He said it is estimated that over one hundred million people will be vaccinated by June next year. A total of Rs 100 billion have been proposed to meet exigencies related to COVID-19.