PM inaugurates Port Qasim coal power plant's unit in Karachi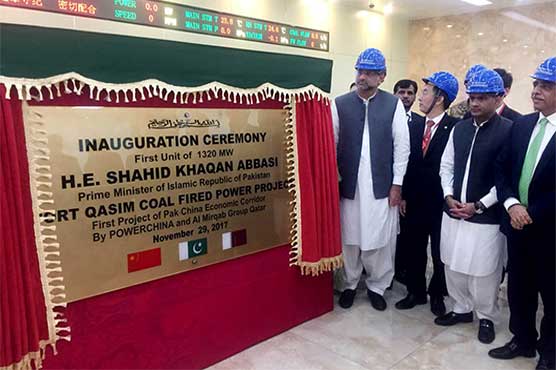 Ministers of Sindh cabinet received PM Khaqan Abbasi
KARACHI (Dunya News) – Prime Minister Shahid Khaqqan Abbassi has inaugurated a two billion dollars coal fired power plant unit at 1320 MW Port Qasim which is a part of China Pakistan Economic Corridor. The unit is jointly sponsored by Qatari and Chinese firms and is anticipated to generate 660 MW energy.
Prime Minister Shaid Khaqqan Abbassi flew to Karachi to give green signal to power plant at Port Qasim, first to be built the port area under the umbrella of CPEC. The PM, upon his arrivial in Karachi, was received by Sindh's Governor, Sindh's Chief Minister and various other Ministers from Sindh cabinet.
The two billion dollars project has been completed in 30 months which has commenced construction in 2015. The project has been evidence of the friendship with the Chinese government also it will provide cheaper electricity which has been priority of the government.
The government, the Prime Minister has said due to network of power plants constructed across the country has reduced the volume of loadshedding in the country.
"CPEC will not only bring fresh investment in the country but would also create employment for the locals in series of projects", Khaqqan Abbasi said.
The PM also thanked the Qatari delegate who was present in the inaugural ceremony.
The Prime Minister said NEPRA has recently reduced the electricity tariff by Rs 2 per unit. The government has ambitious plan and would also construct more energy related projects and also build new LNG terminal in the country to ensure efficient and steady supply of electricity.
Pakistan's only option is democracy and election will be held as per schedule in 2018.