Two ships divert course away from Red Sea area after vessel seized by Houthis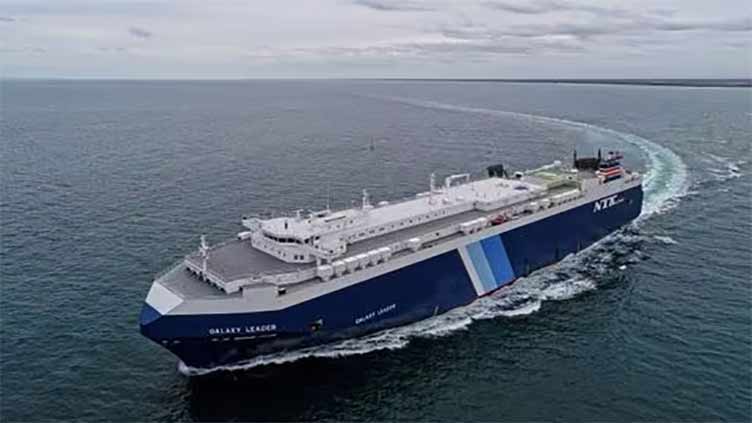 World
Two ships divert course away from Red Sea area after vessel seized by Houthis
LONDON (Reuters) - Two commercial ships that diverted their course in the Red Sea and Gulf of Aden were connected to the same maritime group whose vessel was seized by Yemen's Houthis, according to shipping data and British maritime security company Ambrey.
Israel on Sunday said the Houthis had seized a British-owned, Japanese-operated cargo ship in the southern Red Sea, describing the incident as an "Iranian act of terrorism" with consequences for international maritime security.
The Houthis, an ally of Tehran, confirmed that they had seized a ship in that area but described it as Israeli.
Japan's top government spokesperson on Monday confirmed the capture of the Nippon Yusen-operated ship Galaxy Leader, adding that Japan was appealing to the Houthis while seeking the help of Saudi, Omani and Iranian authorities to work toward the swift release of the vessel and its crew.
Two other ships also listed as commercially managed by Ray Car Carriers, Glovis Star and Hermes Leader, diverted their sailing routes on Sunday, Ambrey said on Monday.
The Hermes Leader had set a course to sail south of Nishtun in Yemen when it diverted its journey.
"The vessel continued to sail back to where it had come from, providing a new AIS destination as Hambantota, Sri Lanka," Ambrey said. "The vessel incurred a minimum four-day business disruption and sailed an additional 1,876 nautical miles."
The Glovis Star drifted for a number of hours in the Red Sea before continuing its journey, AIS ship tracking data showed on Monday.
Galaxy Maritime Ltd, which is listed in shipping records as the beneficial owner of the Galaxy Leader, did not immediately respond to a request for comment.
Houthi leadership last week said their forces would make further attacks on Israel and they could target Israeli ships in the Red Sea and the Bab al-Mandeb Strait.
U.S. maritime administration MARAD in an advisory said the Galaxy Leader had been hijacked approximately 50 miles west of the Houthi-controlled port of Hodeidah, adding that ships should "exercise caution when transiting this area."