New York City declares state of emergency over severe floods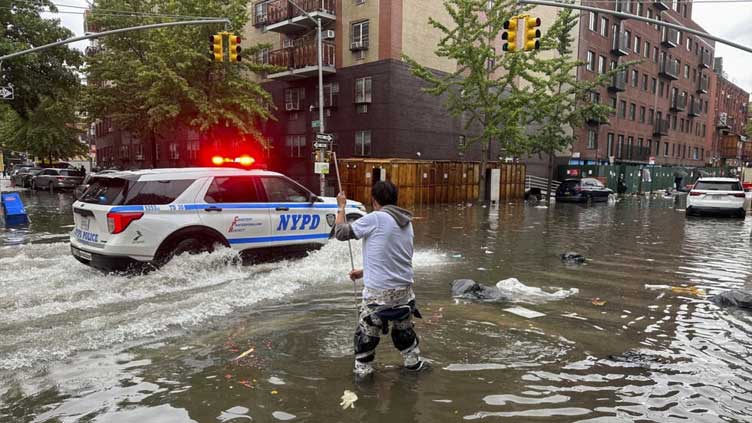 World
The streets were blocked and subway stations flooded
New York (AFP) - Heavy rains overnight in the northeastern United States left parts of New York City under water on Friday, partially paralyzing subways and airports in the country's financial capital.
LaGuardia airport closed down one of its terminals, with social media images showing passengers walking through water well above the tops of their shoes. New York Mayor Eric Adams urged people to not venture out because the streets were blocked and subway stations flooded.
"If you are home, stay home. If you are at work or school, shelter in place for now, some of our subways are flooded and it's extremely difficult to move around the city," he said. Images from around New York showed cars half-submerged and traffic snarled, with some major roads completely blocked.
Shopkeepers in flooded stores were trying to protect merchandise and push the water back into the streets. The massive New York subway system was also hit by the flooding, with several lines closed in Brooklyn.
Cab driver Ahmed Abdou, 50, originally from Egypt, blasted officials for struggling to cope with what he said was a regular phenomenon. "The subway in the city is terrible," he said. "All the storms, they come every year at the same time. We should anticipate it better," he said.
But Rohit Aggarwala Overall, the city's Environmental Protection Commissioner, said global warming had advanced faster than the city could act to shore up its protections.
"This changing weather pattern is the result of climate change. And the sad reality is our climate is changing faster than our infrastructure can respond," Overall said.
New York Governor Kathy Hochul declared an official state of emergency for the city of 8.5 million and its densely-populated suburbs, including Long Island to the east and the Hudson River valley to the north.
The National Weather Service warned of flooding through late Friday with as much as two inches (5.1 centimeters) of rain falling per hour. It said total accumulation on Friday could hit seven inches (18 centimeters).
"Excessive runoff will likely result in scattered to numerous instances of flash flooding in urban and poor drainage areas, as well as along quick responding small rivers and streams," it said.
The rain came from a low pressure system along the mid-Atlantic coast, which pulls in moist air from the ocean. In September 2021 Hurricane Ida brought extensive flooding to the region, especially Brooklyn and Queens, leaving 13 people dead, many of them trapped in basement apartments.
Both boroughs were hit with some of the worst flooding Friday, and residents were warned to take special care.
"If you live in these boroughs or in a basement apartment or flood-prone area, please make sure you have plans and are prepared to move to higher ground," urged New York City Emergency Management commissioner Zach Iscol.
In the subway – one of the world's largest systems with 420 stations and more than 30 lines – water poured down the steps and through the ceilings of some stations.
The subway is essential to the lives of millions of city residents, but a number of lines, including in Brooklyn, were shut down because of the flooding.
Hochul said it was crucial to get the subway back up running, because many children rely on it to get to and from school.