Portugal, Spain battle wildfires amid heatwave alerts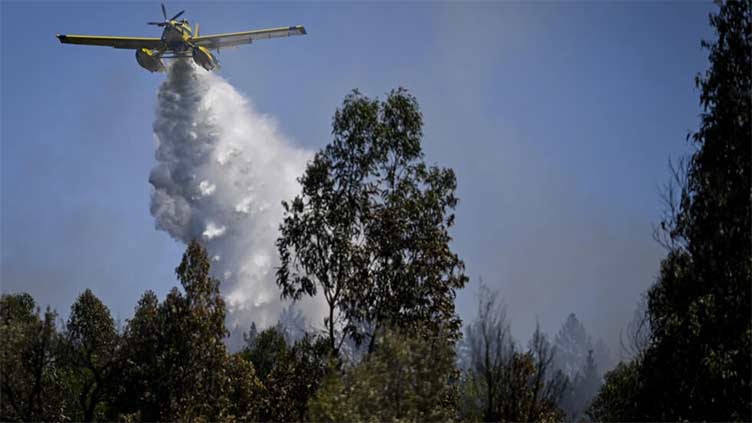 World
The Iberian Peninsula is bearing the brunt of climate change in Europe, witnessing intense heatwave
LISBON (AFP) – Hundreds of firefighters on Tuesday battled a wildfire that has burned for four days in southern Portugal, which like neighbouring Spain is sweltering in a heatwave that has triggered widespread weather alerts.
The Iberian Peninsula is bearing the brunt of climate change in Europe, witnessing increasingly intense heatwaves, droughts and wildfires.
The temperature rose to 46.4 degrees Celsius (115.5 Fahrenheit) in Santarem, central Portugal, on Monday, a record for 2023 according to provisional data from the meteorological office.
More than 1,000 firefighters backed by 10 water-bomber planes were battling a blaze that has already burned thousands of hectares near Odemira, southwestern Portugal, not far from the tourist hub of the Algarve.
Nearly 10,000 hectares (25,000 acres) have been blackened since Saturday, Vitor Vaz Pinto of the civil protection agency said, adding that the blaze was still spreading "on two fronts".
Local media reported that one home as well as a rural tourist lodging had been destroyed, which had not yet been confirmed by authorities.
Nearly 1,500 people, residents as well as tourists, have been evacuated from the area.
"It was terrible, there were flames everywhere and we had to scramble. Nobody was there to help us, thankfully I had three friends who came to help," Ana Costa, a farmer in the region, told AFP.
Around 40 people, including 28 fire officers, have been given emergency medical treatment.
Heatwave alerts
A separate wildfire that has already destroyed around 7,000 hectares (17,300 acres) in Leiria, central Portugal, calmed somewhat overnight on Monday.
Across the country, nearly 2,800 firefighters and 16 water-bombers were in action on Tuesday.
Weather warnings remained in place in both Portugal and Spain.
Much of the southern half of Spain was on orange alert on Tuesday, with the weather service saying temperatures were expected to top 44C on Tuesday and Wednesday, which are predicted to be the fiercest days of this heatwave, the third in the country this year.
The Spanish met office (AEMET) issued maximum red alerts for parts of Andalusia in the south, the Madrid region in the centre and the Basque Country in the far north.
More than 1,000 hectares of land were destroyed by flames in Spain over the weekend.
A fourth large wildfire broke out on Monday in Estremadura, central Spain, near the border with Portugal. Firefighters were unable to contain it overnight.
In total, wildfires have destroyed 100,000 hectares of land across the Iberian Peninsula this year, according to preliminary estimates. This is on top of the record 400,000 hectares destroyed last year.