US safety board chair vows accountability, recommendations in Ohio derailment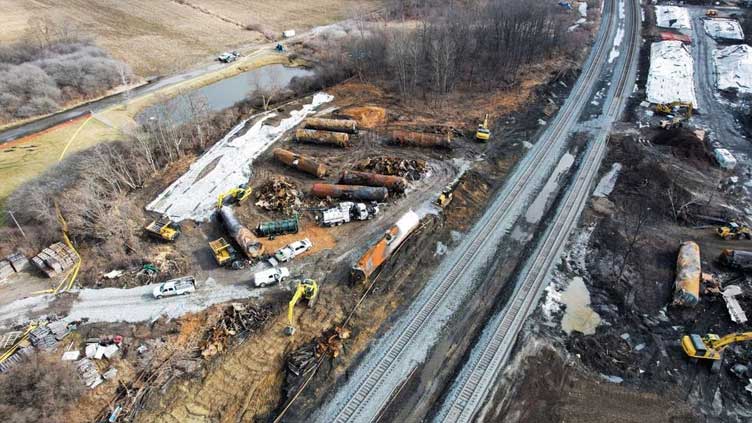 World
US safety board chair vows accountability, recommendations in Ohio derailment
WASHINGTON (Reuters) - National Transportation Safety Board chair Jennifer Homendy on Thursday vowed to ensure accountability and propose new safety recommendations in its investigation into the Feb. 3 Norfolk Southern (NSC.N) train derailment in East Palestine, Ohio.
Homendy said at the start of a two-day investigative hearing in Ohio the sessions "will help us determine what went wrong." She said the board "will then make safety recommendations to prevent similar derailments from ever happening again... It is our job to hold everyone accountable."
The Norfolk Southern-operated train caught fire and released over a million gallons of hazardous materials and pollutants. The NTSB on Thursday released thousands of pages of interviews and investigative materials.
Norfolk Southern CEO Alan Shaw told the NTSB the railroad was committed to improving its safety culture.
"We're going to invest in this, we're going to invest in overtime, we're going to listen to our team and we're going to make it really clear through our communications and our actions that we're investing in the safety culture," Shaw said in a May 4 interview with NTSB. "I want to get back to where we were 15 years ago."
In May, a U.S. Senate panel approved rail safety legislation that tightens rules on trains carrying explosive substances like the Norfolk Southern-operated train.
The NTSB panels include emergency response related to the initial evacuation, wayside defect detectors and hot bearings, the decision to vent and burn and rail tank car safety.
In March, the NTSB and Federal Railroad Administration both announced special safety assessments of Norfolk. The NTSB opened a special investigation and urged the railroad to "take immediate action "to review and assess its safety practices."