Opponents compete to square off against Venezuela's powerful leader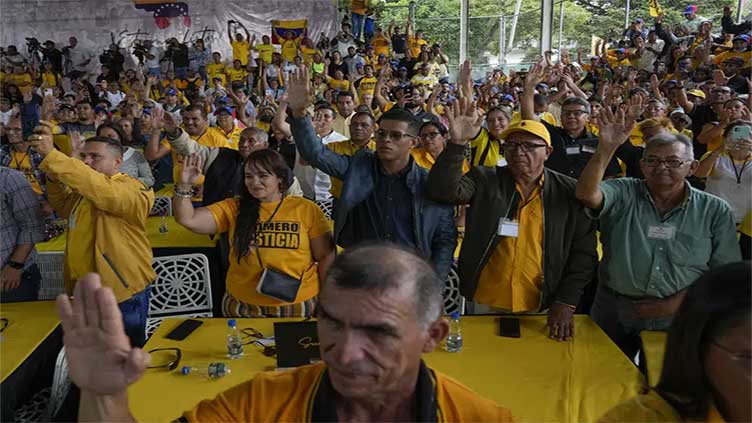 World
Opponents compete to square off against Venezuela's powerful leader
(AP) — Leaders of Venezuela's fractured opposition are shaking voters' hands and promising — yet again — that they will defeat President Nicolás Maduro at the ballot box.
Maduro is backed by the all-powerful United Socialist Party of Venezuela, which has controlled the nation and its oil wealth for a quarter-century. The party was led for 15 years by Hugo Chávez and has been behind Maduro for a decade, all the while tilting the electoral system in its favor and using government benefits as incentives to vote for it.
Despite the sky-high odds against them, opposition leaders say that giving up would be worse, so they're holding an Oct. 22 primary to decide who will take on Maduro next year. They are getting a lukewarm reception from dispirited voters who were told for years to boycott elections.
Interested candidates could officially enter the race starting Tuesday but many election basics — such as who will vote, how and where — remain undetermined. Still, so far about 10 politicians think they have what it takes to face Maduro and the United Socialist Party of Venezuela.
"All of us Venezuelans who want to live better, who want to live in a democracy, must do what is within our reach," said Jesús María Casal, a constitutional attorney who heads the body overseeing the primary.
The list of aspiring candidates includes Henrique Capriles, a two-time presidential candidate and former governor, and Maria Corina Machado, a former National Assembly member. Freddy Superlano, a onetime gubernatorial candidate, became his party's choice after Juan Guaidó, the former self-proclaimed acting president of Venezuela, left the country in late April.
Voters are being suffocated by a protracted crisis that has pushed more than 7 million people to migrate and has made food and other necessities unaffordable for those who remain.
Since Hugo Chávez was elected president in 1998, ushering in a movement that he said championed the working class, Venezuelans have participated in 17 elections, including presidential, legislative, gubernatorial and municipal contests.
The elections have been marked by the use of free food, home appliances and other goods as political tools. Pro-government candidates have had preferred access to subsidized gasoline, and favorable coverage on state television for the ruling party.
The elections have also featured so-called red checkpoints — named after the color that the ruling party coopted more than two decades ago. Checkpoints near polling sites are typically run by ruling-party allies who ask people to see the government-issued cards needed to receive food and other assistance.
The lack of fair electoral conditions prompted some opposition leaders to encourage boycotts over the past two decades. But the strategy failed, and the various parties and opposition factions have been working for months to reach agreements to hold the first primary since 2012.
Guaidó, who did not vote in the 2021 regional elections, this year encouraged Venezuelans living abroad to send friends money so that they could pay for trips to voter-registration offices.
"Your family and friends in Venezuela need your help to participate in the primary," a video tweeted by Guaidó in March explains. "Support them with the travel expenses."