Blinken urges Israel-Saudi normalisation ahead of Riyadh visit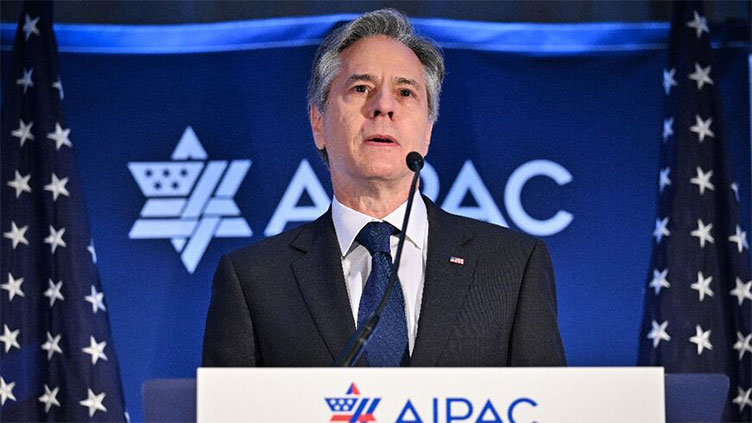 World
Antony Blinken called Monday for the normalisation of relations between Saudi Arabia and Israel
WASHINGTON (AFP) – US Secretary of State Antony Blinken called Monday for the normalisation of relations between Saudi Arabia and Israel on the eve of his visit to the Arab power.
"The United States has a real national security interest in promoting normalisation between Israel and Saudi Arabia," Blinken said in a speech to the powerful pro-Israel lobby AIPAC.
"We believe we can and indeed we must play an integral role in advancing it," Blinken said.
He said the administration of President Joe Biden has "no illusions" that bringing about full Saudi-Israel diplomatic relations can be done quickly or easily.
"But we remain committed to working toward that outcome, including on my trip this week to Jeddah and Riyadh for engagements with Saudi and Gulf counterparts," he said.
Blinken is expected to arrive Tuesday evening in Jeddah, the Red Sea port where the ruling Saudi royalty keep palaces for the summer season.
On Wednesday and Thursday he will be in Riyadh for a ministerial meeting of the Gulf Cooperation Council and a separate meeting of the 80-strong coalition of countries fighting the Islamic State group.
DEEP BUT TESTY RELATIONS
Besides his diplomatic counterparts, Blinken is expected to meet with Crown Prince Mohammed bin Salman, the de facto power in the country.
Despite longstanding close ties, US relations with the Saudis have been testy in recent years, over human rights issues like the murder of dissident journalist Jamal Khashoggi by a group tied to the Saudi royal palace, and Riyadh's effort to raise oil prices after Russia's invasion of Ukraine.
In addition, the Saudis recently gave China an opening into Middle East political dynamics when Beijing brokered a tentative rapprochement between Riyadh and archrival Tehran.
And in May Prince Mohammed hosted Syria's President Bashar al-Assad, whose legitimacy Washington rejects, in Jeddah.
Still, US-Saudi relations are intimate, especially defense: Washington provides the Sunni Arab giant security protection from Shiite Iran, and the Saudis purchase significant amounts of arms from the United States.
Both are also involved in efforts to end the years-long war in Yemen that pits Iran-backed Huthi rebels against the frail government, supported by a Saudi-led coalition.
And most recently the Saudis have hosted in Jeddah negotiations between the warring military factions in Sudan.
Jeddah last month also became a first destination for foreign diplomats and Sudanese nationals evacuating from Khartoum after the fighting erupted.
"There is just a tremendous amount of work that we're trying to do" with the visit, said Daniel Benaim, a senior State Department official dealing with Arabian Peninsula affairs.
"We're focused on an affirmative agenda here and the great deal of work our countries can do together."
ABRAHAM ACCORDS
Washington has stepped up its push for Saudi-Israeli ties in the wake of the successes of the Abraham Accords, the initiative launched by former president Donald Trump to persuade Arab countries to recognize the Jewish state.
Although Israel and Saudi Arabia have long maintained regular contacts at the unofficial level, Riyadh has declined to recognize Israel, in part over Israel's treatment of its Palestinian minority. Blinken alluded to that Monday.
"Integration and normalization efforts are not a substitute for progress between Israelis and Palestinians, and they should not come at its expense."
"Israel's deepening relationships with its partners can and should advance the well-being of the Palestinian people," he said.
BATTLING ISLAMIC STATE'S SPREAD
The anti-Islamic State coalition meeting will focus on the spread of jihadist extremism outside the Middle East, according to Ian McCary of the Department of State's Counterterrorism Bureau.
"We're focusing in particular on Africa, where violent groups have adopted ISIS's ideology," McCary said, using another acronym for the Islamic State.
The Riyadh gathering "underscores that the international community remains united in its determination to keep ISIS weak, fractured, and ultimately destroyed," he said.