Moldova says Europe summit signals unity in face of Russia's war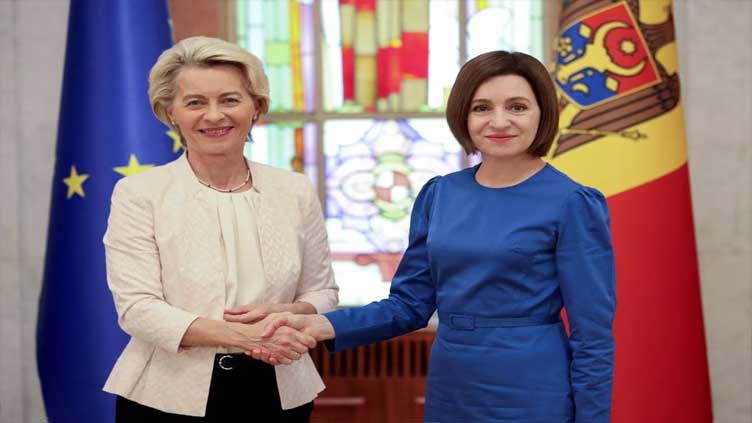 World
Moldova says Europe summit signals unity in face of Russia's war
CHISINAU (Reuters) - Moldovan President Maia Sandu said on Wednesday a summit of European leaders being hosted by her country this week would send an unwavering message of peace and condemnation of Russia's invasion of neighbouring Ukraine.
She said an agreement on mobile phone roaming from Jan. 1, 2024 had been signed with visiting European Commission President Ursula von der Leyen, and that the European Political Community summit on Thursday was an important day for Moldova and Europe.
"The second meeting of the European Political Community is proof of the growing unity on the continent," she told a joint news conference with von der Leyen.
More than 40 European leaders are set to meet at a castle deep in Moldovan wine country on Thursday, in a show of support for the former Soviet republic that applied to join the European Union after Russia invaded Ukraine in February 2022.
"...this event is a strong confirmation of our unwavering commitment to peace, a firm condemnation of the Russian invasion (of Ukraine), constant solidarity with Ukraine and a demonstration of support for Moldova," she said.
Moldova, like Ukraine, applied to join the EU last year shortly after the Russian invasion which sent streams of Ukrainian refugees into Moldova and has hit the small country's economy.
The pro-Western government, which accused Russia of plotting its downfall earlier this year, says it plans to use the summit to showcase reforms and convince leaders to open EU accession talks as soon as possible.
Von der Leyen said Moldova was making clear progress as it seeks EU membership.
"It is amazing to see that despite all the pressure, Moldova is advancing rapidly and with great quality," she said.
The EU will "significantly increase" its delegation in Chisinau to support further reforms, she added.