Pro-Kurdish parties reaffirm support for opposition in Turkey runoff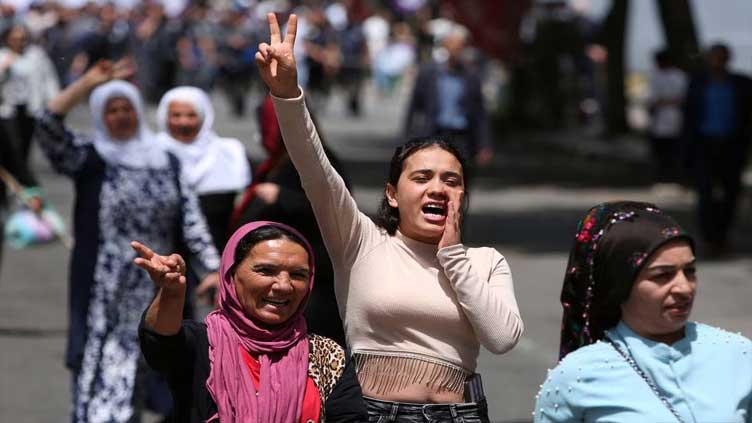 World
Pro-Kurdish parties reaffirm support for opposition in Turkey runoff
ANKARA (Reuters) - Turkiye's pro-Kurdish parties on Thursday reaffirmed their support for opposition presidential candidate Kemal Kilicdaroglu in this weekend's runoff election without naming him, a day after expressing anger at his deal with a far right party.
Seeking to extend his two-decade rule, Tayyip Erdogan came out comfortably ahead in the first round on May 14, despite the pro-Kurdish HDP's endorsement of Kilicdaroglu. But the president fell just short of the 50% needed to avoid this Sunday's vote.
The Peoples' Democratic Party (HDP) and its Green Left (YSP) ally said they sought change in the runoff and their stance was the same - but they did not endorse Kilicdaroglu by name.
HDP co-chair Pervin Buldan told the news conference that they will vote on Sunday to end Erdogan's "one-man regime".
"The freak regime created by Erdogan and his partners is the cause of the societal problems that are being experienced," she said. "What will be voted on May 28 is whether this freak regime will continue or not."
In a boost for Kilicdaroglu on Wednesday, he announced a deal with the anti-immigrant Victory Party (ZP) in which they gave him their support. The ZP won 2.2% of votes in this month's parliamentary election.
The accord drew the HDP's ire because of an article in it saying it supported mayors being replaced by state-appointed trustees if a court ruled that they had terrorism links. Most HDP mayors elected in 2019 have been replaced by such officials.
Buldan also criticised election campaign rhetoric in which migrants are used for political purposes.
"The refugee and migrant problem can only be solved with a strong struggle for peace against policies of war," she said.
Mithat Sancar, the HDP's co-chair called on people who did not vote in the first round to head to the ballots in the runoff to oust Erdogan.
Kilicdaroglu's six-party alliance had previously vowed to end the practice of replacing mayors with government-appointed trustees in its programme.
HDP support is crucial for Kilicdaroglu, who won 44.9% of the vote on May 14 behind Erdogan on 49.5%.
The endorsement of Kilicdaroglu by ZP leader Umit Ozdag could offset one that Erdogan received on Monday from Sinan Ogan, the presidential candidate of a ZP-led far right alliance.
Ogan came third in the presidential vote with 5.2% support.
A closely-watched survey by pollster Konda for the runoff put support for Erdogan 52.7% and Kilicdaroglu on 47.3% after distribution of undecided voters. The survey was carried out on May 20-21, before Ogan and Ozdag revealed their endorsements.
Previous surveys by Konda and many other pollsters were wide of the mark in their predictions for the May 14 presidential vote, with most forecasting Kilicdaroglu was ahead.
The HDP ran in the parliamentary election under the YSP banner due to a court case seeking its closure for alleged terrorism links. It denies such ties.
The HDP mayors who were unseated after the 2019 local elections were jailed pending trial on terrorism charges.