Palestinians accuse settlers of West Bank arson, Israel sees electrical fire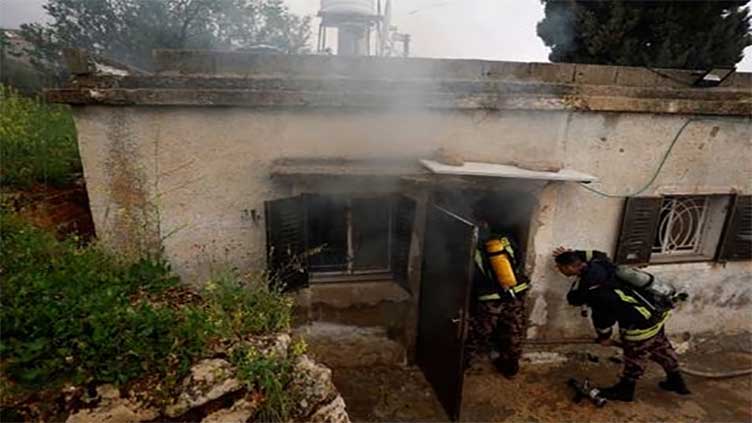 World
Palestinians accuse settlers of West Bank arson, Israel sees electrical fire
SINJEL, West Bank (Reuters) - The Palestinian Foreign Ministry accused "Jewish terrorist elements" of an arson attack against a family home in the occupied West Bank on Sunday, but Israeli police said the fire appeared to have been an accident.
West Bank tensions have been running high as Palestinians mark the Muslim holy month of Ramadan amid a surge of violence, including a gun attack on Saturday in which two Israeli soldiers were wounded and almost nightly arrest raids by the Israeli army.
No one was hurt in the predawn fire in Sinjel. Ahmed Awashreh, the owner of the home that was badly damaged, said he was woken by the sound of a window smashing and managed to get his four children and wife out before the flames spread.
"It was so close. I'm happy I saved my family," he said.
A Sinjel resident who requested anonymity told Reuters he saw cars whose occupants he recognised as Jewish settlers nearby minutes before the incident.
The Palestinian Foreign Ministry blamed the incident on "Jewish terrorist elements" but Israeli police, who sent investigators to the scene, said in a statement that the fire "was mostly likely caused due to a short circuit and not a deliberate ignition".
Most countries deem the settlements, which take up land Palestinians seek for a state, illegal. Israeli disputes this.
The Popular Front for the Liberation of Palestine militant group claimed Saturday night's drive-by shooting in Huwara, 13 km (8 miles) from Sinjel, that wounded two soldiers. It was the third time in a month that Israelis had been fired upon there.
In a Feb. 26 attack, a gunman from the Hamas militant group killed two brothers from a nearby Jewish settlement as they sat in a car. That sparked a revenge rampage by settlers in which a Palestinian was killed and properties torched.
Over the past year, Israeli forces have made thousands of arrests in the West Bank and killed more than 250 Palestinians, including fighters and civilians, while more than 40 Israelis and three Ukrainians have died in Palestinian attacks.
In overnight West Bank raids, Israeli forces arrested three suspected militants, the army said on Sunday.