Party pressure mounts on Netanyahu to pause judicial overhaul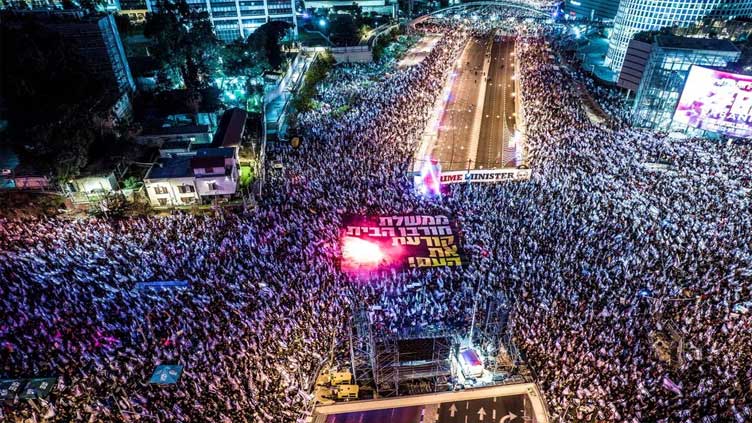 World
Party pressure mounts on Netanyahu to pause judicial overhaul
JERUSALEM (Reuters) - A top lawmaker from Israeli Prime Minister Benjamin Netanyahu's Likud party echoed on Sunday a call by the defence chief to pause a contested judicial overhaul, and raised the possibility that the government's parliamentary majority could be eroded.
Dissent from the premier's own party and cabinet has compounded months of unprecedented mass protests by Israelis who fear the package of reforms could endanger court independence.
Netanyahu, who is on trial on graft charges that he denies, says the overhaul will balance out the branches of government.
A key bill effectively giving his religious-nationalist coalition more control over the appointment of judges is expected to be brought ratification this week in the Knesset, where he and his allies wield 64 out of 120 seats.
But how - or even whether - that as yet-unscheduled vote will proceed has been thrown into question by Likud dissenters.
Defence Minister Yoav Gallant, a Likud lawmaker, broke ranks on Saturday by publicly urging Netanyahu to suspend legislation for a month. He said countrywide protests against the overhaul, which have included growing numbers of military reservists, were also affecting regular forces and undermining national security.
"I will not facilitate this," Gallant said in his televised remarks, hinting that, should the ratification vote nonetheless be held this week, he might abstain.
On Sunday, Yuli Edelstein, a Likud lawmaker who heads the Knesset Foreign Affairs and Defence Committee, also called for a pause to the overhaul to enable discussion and revisions.
Asked in an interview whether he would otherwise abstain or vote against the looming bill, he did not answer directly but cited his sitting out of Knesset sessions earlier this month.
"I need to remind you that when they didn't listen to me in Likud and ignored my call for dialogue, I wasn't at the first reading of these bills," Edelstein told Israel's Army Radio.
"We don't want to bury the reforms," he added, but "bringing it to a vote before it is clear that there is support for it would be adventurism that is best avoided".
Gallant's statement was welcomed by senior Likud lawmaker David Bitan. A junior Likud lawmaker, Eli Dalal, spoke last week in favour of suspending the legislation. But it was not clear if they or others in Likud might abstain in a ratification vote.
Netanyahu, who returned early on Sunday from a visit to London, did not immediately comment on the dissent in his party. But a pro-reform Likud lawmaker, Tally Gotliv, sounded unfazed.
"We have 62 ('ayes'), and even if someone else doesn't turn up we will have 61. The vote will happen this week," she told Tel Aviv radio station 103 FM.