Trump holds first election rally in Waco overshadowed by legal threats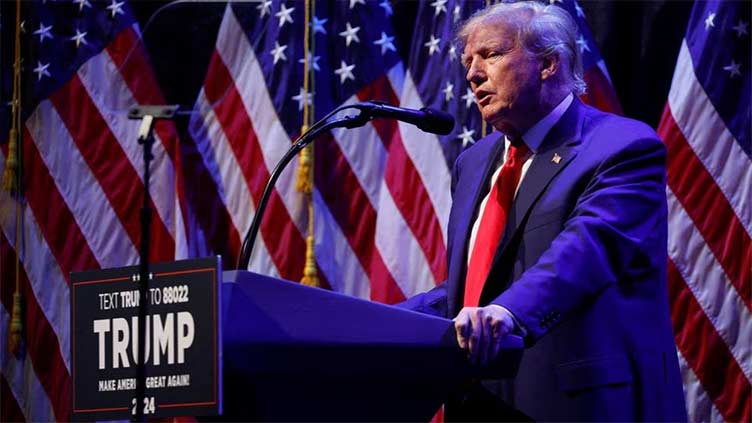 World
Trump faces growing legal peril from a series of ongoing criminal investigations.
(Reuters) - Donald Trump will hold an election rally in Texas on Saturday at a site that critics say will play to his far-right supporters as he seeks to boost a presidential campaign dogged by the threat of criminal indictments.
In what the former president has billed as his first major rally of the 2024 presidential race, Trump has called on supporters to assemble at an airport in Waco, Texas, and cheer on his bid for the Republican Party nomination.
Waco is marking the 30th anniversary of a raid by federal agents on the Branch Davidians religious sect there that resulted in 86 deaths, including four law-enforcement officers. Some right-wing extremists view the raid as a seminal moment of government overreach.
In an email, a Trump campaign spokesperson said Waco was chosen because it is situated between several major population centers and has the infrastructure to host a large event.
Trump faces growing legal peril from a series of ongoing criminal investigations, including one in Manhattan related to an alleged hush-money payoff to porn star Stormy Daniels during his 2016 White House campaign.
Trump has sought to paint the Manhattan case as politically motivated, raised money off it and used it to rally supporters to his side. On Friday, he issued an apocalyptic warning, saying the country faced potential "death & destruction" if he was charged with a crime.
"Trump is walking on a high wire without a net, telegraphing that he has nothing to lose and is willing to risk dangerous outcomes to rally support," said Ron Bonjean, a Republican strategist in Washington.
LITTLE RESPONSE
Few supporters have heeded his calls to take to the streets to protest his possible indictment in the Manhattan case. Those calls will likely invite closer than normal scrutiny of how many people attend Saturday's rally, where Trump, who is due to start speaking at 5 p.m. CDT (2200 GMT), is expected to rail against the potential prosecutions.
The city of Waco said it was expecting 15,000 people to attend the rally.
In an editorial, the Houston Chronicle said the decision to host the event in Waco during the anniversary of the Waco siege represented far more than a dog-whistle message to far-right and conspiratorial Trump supporters.
"The more apt metaphor is the blaring air horn of a Mack 18-wheeler barreling down I-10," the newspaper said, adding that Waco had become "a shrine for the Proud Boys, the Three Percenters, the Oath Keepers and other anti-government extremists and conspiracists."
Timothy Naftali, a presidential historian at New York University, said he would be watching to see if Trump explicitly references conspiracy theories related to the siege, similar to how he promoted lies about a stolen 2020 election in the run-up to his supporters' assault on the U.S. Capitol on Jan. 6, 2021.
"He still has the power to create more wreckage and his choice of venue allows him to do more damage if he wishes. We'll see," Naftali said.
In addition to prosecutors, Trump is likely to target Ron DeSantis for criticism. The Florida governor has yet to declare his candidacy for the Republican nomination but has drawn Trump's ire nonetheless.
Trump rallies typically draw thousands of enthusiastic supporters keen to see him in person. Trump continued to hold rallies even after he left office, delivering his trademark rambling and inflammatory oratory that draws rapturous applause from rallygoers.