France's Macron says will not yield to pension protests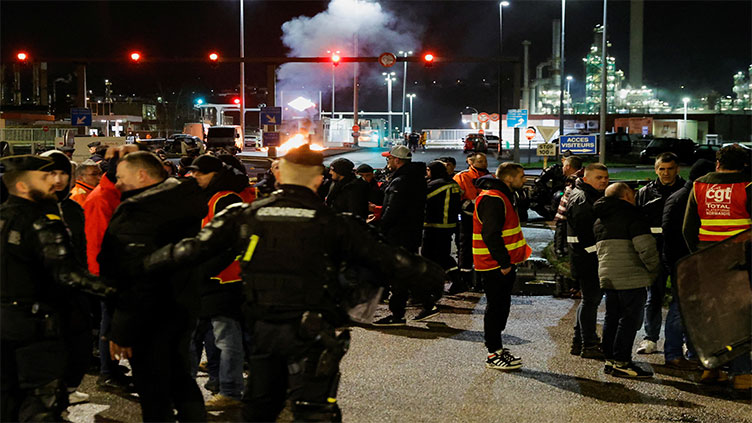 World
President Emmanuel Macron on Friday said he would press ahead with reforms.
PARIS (Reuters) - President Emmanuel Macron on Friday said he would press ahead with reforms, dodging a union leader's call to suspend a new pension law amid some of France's worst street violence in years.
There were violent clashes across the country on Thursday evening on the fringes of otherwise peaceful protests that have for weeks gathered huge crowds against a rise in the pension age by two years to 64.
A police station was targeted in the western town of Lorient, the main entrance of the Bordeaux town hall was set ablaze and hundreds of fires were recorded nationwide. Some 441 police officers were injured and 475 people were arrested. Dozens of protesters were also injured.
Against this backdrop, Britain's King Charles' state visit to France, due to start on Sunday, has been postponed.
Earlier in the day, the head of the CFDT labour union Laurent Berger, urged Macron to "make a gesture" to calm things down. The solution, the influential Berger suggested, would be to pause the reform for six months and look for compromises.
But asked about this after an EU summit in Brussels, Macron only repeated comments he made earlier this week about being open to discussing future policy changes with unions.
"We will continue to move forward. France cannot be at a standstill," he said. "We will yield nothing to violence, I condemn violence with the utmost strength."
He added that the pension law, which the government pushed through parliament without a vote, would simply follow its course - which is now a review of its legality by France's constitutional council.
VIOLENT CLASHES
In Paris and many cities across the country, clean-up crews sifted through broken glass, charred garbage cans and shattered bus stops after violent clashes overnight between black-clad anarchists and police. A tag on an ATM read: "Paris is burning."
Opinion polls show a wide majority of voters are opposed to the pension bill. They were further angered by the government's decision to skip the vote in parliament and by Macron comparing some of the protests to the Jan. 6, 2021, storming of the U.S. Capitol.
The latest wave of protests and clashes has become the most serious challenge to Macron's authority since the "Yellow Vest" revolt of disgruntled working class people four years ago.
On a shattered Starbucks window in Paris, someone had tagged "Democracy" in big red letters. Other tags seen on burnt down newspaper kiosks and damaged shop windows read "Anti-Macron" and "Macron, resign."
For Paul, a Parisian retiree, that was going to far.
"Violence has never been a way to be heard," he said.
But 30-year old Bastien Mrozovski was more understanding, at a time where polls show many are upset with Macron's leadership style.
"There were attempts to try with the soft diplomacy, with the unions, with protests that was quite peaceful the past weeks. Now, there is forcibly a threshold crossed, which leads to violence on the other side," Mrozovski said.
Unions have called for regional action over the weekend and new nationwide strikes and protests on Tuesday.