Ethiopia's parliament removes Tigray rebel party from terror list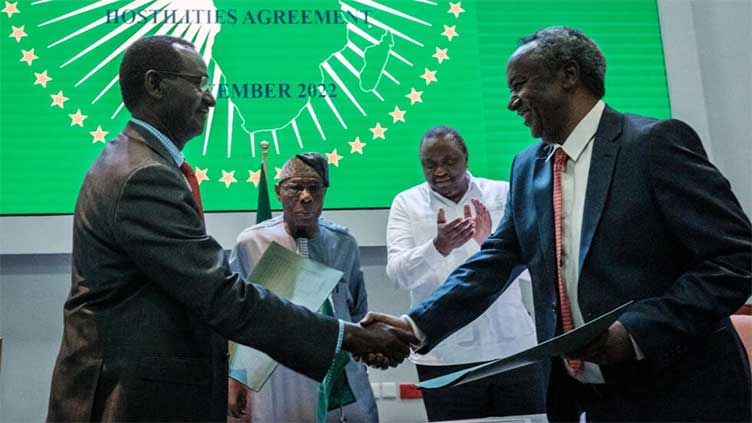 World
Ethiopia's parliament removes Tigray rebel party from terror list
ETHIOPIA (Web Desk) – Ethiopia's parliament on Wednesday removed the rebel Tigray People's Liberation Front (TPLF) from an official list of terrorist groups, a key step in the peace process following the two-year conflict in the country's north.
"The house has approved the decision to lift the TPLF's terrorist designation with a majority vote," the parliament said on Facebook. The move will strengthen the November 2022 peace deal between the TPLF and the federal government, it said.
"It was remarked during the discussion of the draft decision that lifting TPLF's terrorist designation is indispensable to uphold the peace agreement held between the federal government and TPLF," it said.
The TPLF, which once dominated Ethiopian politics, was officially designated a terrorist organisation in May 2021, six months after the war erupted.
During the brutal conflict, the TPLF briefly came close to marching on the capital but was beaten back by forces loyal to Prime Minister Abiy Ahmed.
Under the terms of the peace deal signed in South Africa's capital Pretoria, the TPLF agreed to disarm in return for the restoration of access to Tigray, which was largely cut off from the outside world during the war.
Since the deal, there has been some resumption of basic services and aid deliveries to Tigray, which has faced dire shortages of food, fuel, cash and medicines.
Access to the region of six million people remains restricted, and it is impossible to verify independently the situation on the ground. The conflict broke out when the TPLF attacked military installations, setting off a major offensive by Abiy's government with backing from Eritrea.