Israel missiles hit arms depot in Syria's Aleppo airport: monitor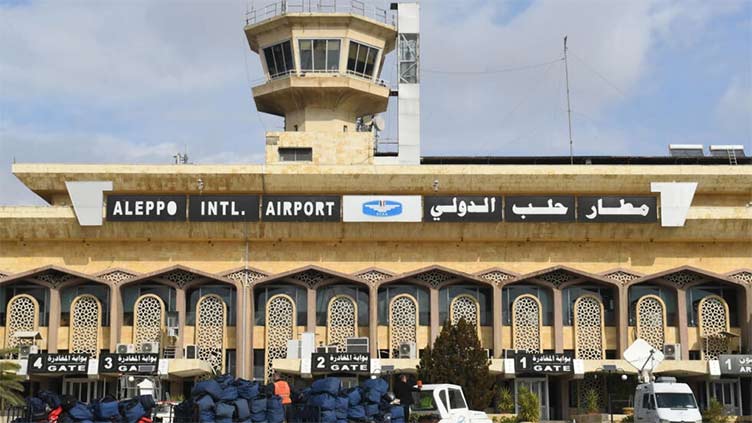 World
It was the second such attack in a month on the airport in Syria's second city.
BEIRUT (AFP) – An Israeli missile strike destroyed a suspected arms depot used by Iran-backed militias at Syria's Aleppo airport on Wednesday, a war monitor said, with authorities saying the strike put the airport out of service.
It was the second such attack in a month on the airport in Syria's second city, which has been a major conduit for relief flights since a February 6 earthquake devastated swathes of northern Syria and neighbouring Turkey.
The pre-dawn strike targeted "the airport compound and a weapons depot belonging to pro-Iranian forces on the airport's perimeter," the Syrian Observatory for Human Rights group said.
The Britain-based war monitor said the arms depot was "completely destroyed".
The Syrian defence ministry reported "damage" but did not immediately mention any casualties.
"Around 3:55 am (0055 GMT), the Israeli enemy carried out an air attack... targeting Aleppo international airport, leading to some material damage," a ministry statement said.
"A number of missiles" were fired from the Mediterranean west of the coastal city of Latakia, it added.
The transport ministry said the strikes caused damage to the runway and to airport equipment, forcing all flights to be redirected to Damascus or to Latakia on the Mediterranean coast.
The Israeli military rarely comments on individual strikes against Syria, but has vowed repeatedly to keep up its air campaign to stop arch foe Iran consolidating its presence.
The Israeli military said Wednesday that "we do not comment on reports in the foreign media", its standard response when questioned about such strikes.
Quake relief hub
Previous strikes blamed on Israel have also stopped flights using the airport following damage to the runway.
On March 7, three people were killed in an Israeli strike on the airport that brought air traffic, including relief flights, to a halt. The airport reopened three days later.
More than 80 aid flights have landed in Aleppo with relief supplies following the earthquake, according to the transport ministry.
Since civil war erupted in Syria in 2011, Israel has carried out hundreds of strikes against its neighbour, primarily targeting positions of the Syrian army and its Iranian and Hezbollah allies.
Iran-backed militias have a heavy presence in the Aleppo region after providing key ground support to the army in its recapture of rebel-held districts of the city in 2016.
Israel has attacked Aleppo and Damascus airports several times in recent years.
A strike on Aleppo airport last September put it out of service for several days. That attack targeted a warehouse used by Iran-backed militias, the Observatory said at the time.
Earlier this month, Israeli air strikes targeting a weapons depot in Syria killed an army officer and two pro-Iran fighters, the Observatory said.
Last month, an Israeli air strike killed 15 people in a Damascus district housing state security agencies.