Activists urge UN Security Council to refer Myanmar to court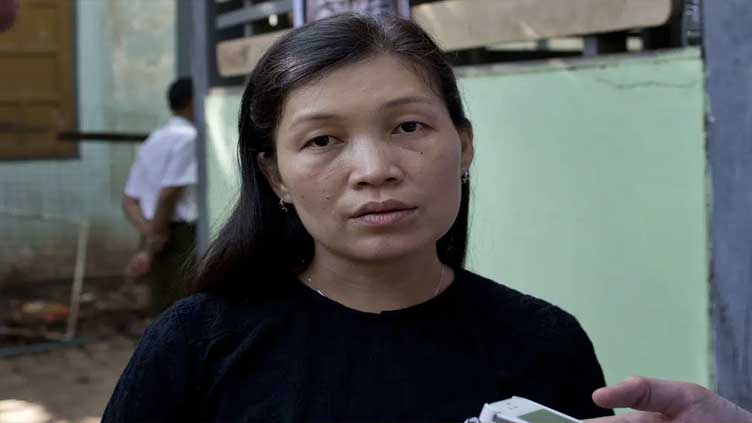 World
Activists urge UN Security Council to refer Myanmar to court
UNITED NATIONS (AP) — Human rights activists urged the U.N. Security Council on Monday to refer Myanmar's military rulers to the International Criminal Court and urged neighboring Southeast Asian countries to support the opposition pro-democracy movement.
The leaders of two women's rights organizations spoke to reporters ahead of a closed council meeting on Myanmar. Members heard briefings by U.N. special envoy for Myanmar Noeleen Heyzer and Indonesia's Foreign Minister Retno Marsudi, whose country chairs the 10-member Association of Southeast Asian Nations.
May Sabe Phyu, director of the Gender Equality Network, a coalition of organizations promoting women's rights in Myanmar, accused Myanmar's military of conducting "a terror campaign" and committing "heinous acts" that constituted crimes against humanity. She said the Security Council should refer the junta's actions to the International Criminal Court for prosecution.
Myanmar's military has long been accused of human rights violations, most notably during a brutal 2017 counterinsurgency campaign against Rohingya Muslims in the western state of Rakhine. International courts are considering whether that crackdown was genocide.
In 2021, the military ousted Myanmar's elected civilian government, then moved to violently suppress public opposition to the takeover. Some experts now consider the situation in Myanmar to be a civil war in which the army has conducting major offensives against widespread armed resistance.
ASEAN adopted a five-step consensus on restoring peace in April 2021 to which Myanmar agreed but has not implemented, leading to Myanmar's exclusion from some top-level ASEAN meetings since then.
The Security Council approved its first-ever resolution on Myanmar in December, demanding an immediate end to violence, urging its military rulers to release all "arbitrarily detained" prisoners including ousted leader Aung San Suu Kyi and to restore democratic institutions. It also reiterated a call for dialogue and reconciliation and urged all sides "to respect human rights, fundamental freedoms and the rule of law."
The activists called for an arms embargo, for the U.N. special envoy to have public engagements with pro-democracy actors, and for accountability for crimes perpetrated by the military.
Phyu, who left Myanmar after the takeover and is now based in the United States, asked the Security Council to pressure Myanmar's neighbors not to support the government but to publicly support democratic forces, including the National Unity Government, which she said has the support of the people of Myanmar.
And she criticized U.N. envoy Heyzer for meeting Senior Gen. Min Aung Hlaing but not meeting publicly with pro-democracy groups including the National Unity Government, which operates underground and calls itself the country's legitimate government.
Naw Hser Hser, head of the Women's League of Burma, said supporters of democracy feel forgotten by the international community.
Before Monday's council meeting, Britain's U.N. Ambassador Barbara Woodward said the Security Council fully supports ASEAN and the five-point council, but stressed that it's time for progress now.
"The people of Myanmar have been suffering for too long," Woodward said. "Myanmar is the second deadliest place in the world for civilians and the people of Myanmar really can't wait."
France's deputy U.N. ambassador Nathalie Broadhurst told The Associated Press after the council meeting that Marsudi presented the implementation plan which calls for action on all five points in parallel, not sequentially.
"They say they don't want megaphone diplomacy," Broadhurst added, expressing hope that the ASEAN effort will eventually lead to a national inclusive effort and end the "desperate situation" in Myanmar.
Brazil's U.N. Ambassador Ronaldo Costa Filho told AP that council members supported ASEAN, and some said the Security Council should be prepared for further action, but no new council action is expected "for the time being."
The Security Council in New York has been increasingly divided due to a major rift among its five permanent members: China and Russia on one side, Britain, France and the United States on the other.