Polls show Erdogan lags opposition by more than 10 points ahead of May vote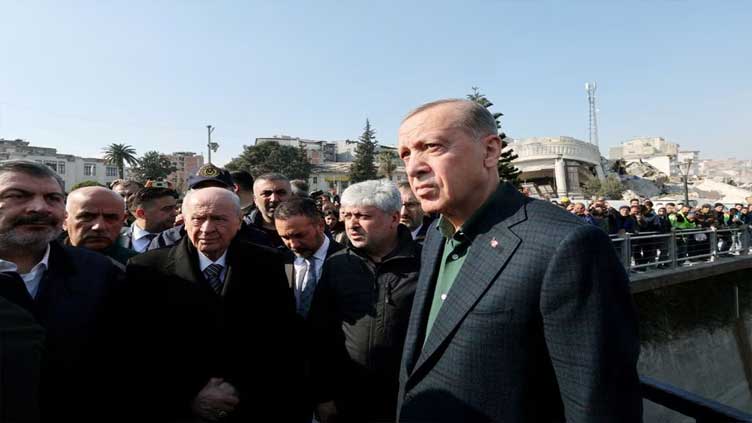 World
Polls show Erdogan lags opposition by more than 10 points ahead of May vote
ANKARA (Reuters) - New polls show the Turkish opposition's presidential candidate, Kemal Kilicdaroglu, leading against President Tayyip Erdogan by more than 10 percentage points ahead of elections on May 14 seen by many as the most consequential vote in Turkey's history.
The polls also show the opposition bloc, called the Nation Alliance, leading the parliamentary race, at least six points ahead of Erdogan's AK Party (AKP) and its allies. The pro-Kurdish Peoples' Democratic Party (HDP) remains comfortably above 10%.
Erdogan faces the biggest challenge to his 20-year rule after the erosion of his popularity during a cost-of-living crisis. Victims of last month's earthquake are also reconsidering their loyalty in previous AKP strongholds.
The elections will decide not just who leads Turkey but how it is governed, where its economy is headed and what role it may play to ease conflict in Ukraine and the Middle East.
Wolfango Piccoli, political risk advisory co-president at Teneo, said the Nation Alliance needs to present a unified front and sell the voters a plan to keep up their momentum heading into the elections.
"Simply blaming Erdogan for everything that is wrong in Turkey won't cut it. Past elections have shown that Erdogan is a phenomenal campaigner, but recent remarks suggest he has lost his popular touch and his ability to connect with voters," he told Reuters.
A poll published by Aksoy Research on Saturday and conducted on March 8 showed Kilicdaroglu, named as the opposition alliance candidate on March 6, leading against Erdogan with 55.6% support and 44.4%, respectively.
It showed the main opposition bloc garnering 44.1% of votes and the HDP at 10.3%. The AKP and its nationalist MHP allies earned 38.2% together.
A poll conducted on March 6-7 by Alf Research showed Kilicdaroglu at 55.1% and Erdogan on 44.9%. Kilicdaroglu's Republican People's Party (CHP) was the most popular with 31.8%, while the AK Party trailed with 31%.
The main opposition bloc earned 43.5% of votes, while the HDP got 11.3%, that poll showed. The AKP and the MHP together had 37.5% support.
Piar Research showed Kilicdaroglu winning with 57.1%, with Erdogan lagging on 42.9%. The CHP got 32.3%, the AKP 30.8% and the HDP 11.6%. The main opposition bloc got 46.4%, while the AKP and MHP earned 37.8%, the poll, published on March 10, showed.
ORC Research showed Kilicdaroglu ahead with 56.8% and Erdogan on 43.2%, according to a poll conducted on March 4-6, before Kilicdaroglu was officially announced as the opposition candidate.
The earthquakes appeared to have had little impact on the AKP's popularity. In a poll by Metropoll, 34.4% of people blamed the government for the losses during the earthquake, while 26.9% blamed contractors.
The municipalities came in third, with 15.4% of contributors saying they were to blame, while 12.9% answered with "all."
Merve Tahiroglu, Turkey programme director at the Washington-based Project on Middle East Democracy, said the opposition alliance was "diverse" and each prominent figure within the alliance could appeal to a different segment of Turkey.
"In this specific moment we have more reason to be optimistic about Turkey's election delivering an opposition win than we have ever been in the last 20 years," she said, speaking on a panel hosted by the Foundation for Defence of Democracies.