Helicopters battle fires started by farmers in northern Thailand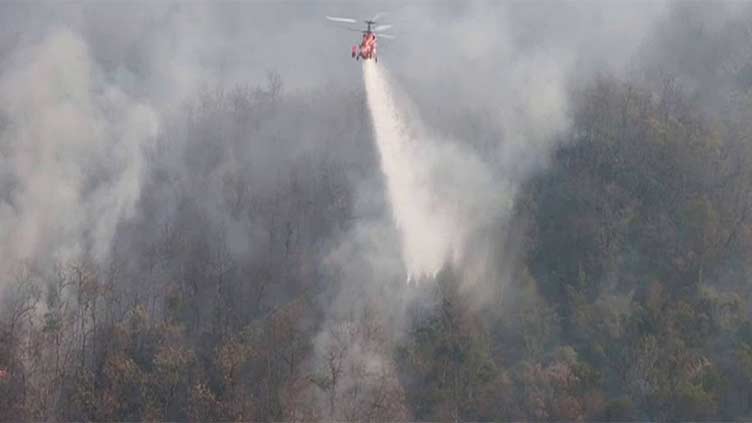 World
The firefighting aircraft were dispatched by the Ministry of Natural Resources and Environment.
THAILAND (Reuters) - Helicopters battled fires caused by slash-and-burn farming amid rising demand for commercial agriculture in Thailand.
The firefighting aircraft were dispatched by the Ministry of Natural Resources and Environment to combat the infernos plaguing national parks and animal sanctuaries in Kanchanaburi province on March 6.
Attapol Charoenchansa, acting chief of the Department of National Parks, Wildlife and Plant Conservation, said the fires have grown worse in the past few days, especially in the Khuean Srinagarindra National Park, Thungyai Naresuan Wildlife Sanctuary, Erawan National Park, and Lam Khlong Ngu National Park.
The helicopters expedited firefighting operations as some of the affected areas were difficult to reach on foot.
National Parks officials said the helicopters dump water from the air to weaken the flames before firefighters on land tackle them directly.
Several wildlife sanctuaries and national parks have been temporarily closed for safety.
Attapol said the Department of Royal Rainmaking and Agricultural Aviation has also scheduled a cloud seeding operation from March 11 to 13 to dissipate the air pollution caused by the fires.
Authorities have set up a command centre to address the fires as more than 2,500 hotspots were detected in farmlands and forests in Thailand.
Meanwhile, farmers were urged to refrain from agricultural burning, identified as the root of the persistent forest fires adding to Thailand's air pollution crisis. However, they are facing commercial pressures from food conglomerates to make a quick turn-around of the land instead of using more time and labour-intensive methods such as crop rotation or manually clearing waste crops.
Scientists found that the smog in Thailand is at its worst in the country when farmers burn waste crops to cheaply clear their land between late October and April. This is combined with high numbers of polluting cars on the road and large construction projects across the capital.
The seasonal lack of wind and rain, combined with a winter low-pressure system in which cold air is trapped closer to the ground by warm air above – prevent the pollution from being dispersed naturally.
The bungling Thai government has been criticised for failing to tackle the country's air pollution crisis, with bizarre measures such as spraying water into the air and giant purifiers having no impact.