Turkish opposition alliance splits over anti-Erdogan candidate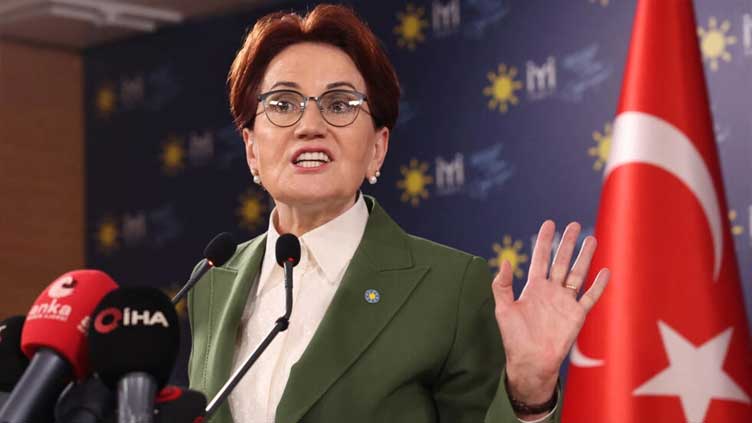 World
Turkish opposition alliance splits over anti-Erdogan candidate
(AFP) - Turkey's opposition alliance fractured on Friday after one of the leaders refused to endorse a joint candidate against President Recep Tayyip Erdogan.
The cracks emerged a day after the six opposition party leaders held a meeting in Ankara to discuss whom to field against Erdogan in the May 14 polls.
Five parties endorsed Kemal Kilicdaroglu, a bookish former civil servant who heads Turkey's main secular party, as the frontrunner in the bid to end Erdogan's rule.
But Meral Aksener, leader of the nationalist IYI Party, has resisted Kilicdaroglu, backing instead Istanbul's popular opposition mayor Ekrem Imamoglu or Ankara's mayor Mansur Yavas.
"I am sorry to say that as of yesterday, the Table of Six has lost its ability to reflect the will of the nation in its decisions," Aksener said after meeting her party delegates on Friday.
She said her party was being forced to choose Kilicdaroglu and added: "We will not bow to this."
A staunch nationalist and a skillful orator, Aksener is one of the few prominent women in domestic politics.
Turkey heads to a crunch election on May 14 three months after a devastating earthquake hit several provinces and claimed more than 45,000 lives.
Erdogan this week dismissed the speculation that the election might be postponed due to the disaster and said the vote would go ahead as planned.
'Gift on a platter'
The splintered political opposition has been unable to agree on a candidate for more than a year.
Some analysts commented that the horrific earthquake could give them new ammunition amid growing public anger at the government's handling of the disaster.
Erdogan, who is seeking another term as president after two decades in power, has received strong criticism from earthquake survivors over the slow response and rescue delays.
Aksener's move appears to be a serious setback.
"Aksener's rejection of Kilicdaroglu marks a serious blow to the political opposition's election prospects," Anthony Skinner, a political risk consultant, told AFP.
"She has handed Erdogan a gift on a platter," he said.
"To maximise their chances of victory the political opposition need to put their differences aside -- at least temporarily -- and work extremely closely to challenge the incumbent".
In 2019, the opposition put aside their differences and united in the single task of unseating Erdogan's allies in municipal elections.
They won mayoral races in Turkey's three main cities -- Istanbul, Ankara and Izmir -- shattering Erdogan's aura of political invincibility.
The opposition bloc was due to announce their joint candidate next Monday.
Aksener said her party had suggested that a united candidate should be designated based on public survey results, and that either the Istanbul or Ankara mayor should be fielded.
"Our demand was rejected," she said, seeming to shut the door on any reconciliation.
Aksener called the Istanbul and Ankara mayors to their "duty" while accusing Kilicdaroglu of promoting "personal ambitions" over the country's interests.
Kilicdaroglu however played down any tension.
"Don't worry," he told reporters. "All pieces will fall into place."