UN wants $4.3bn to help millions in war-torn Yemen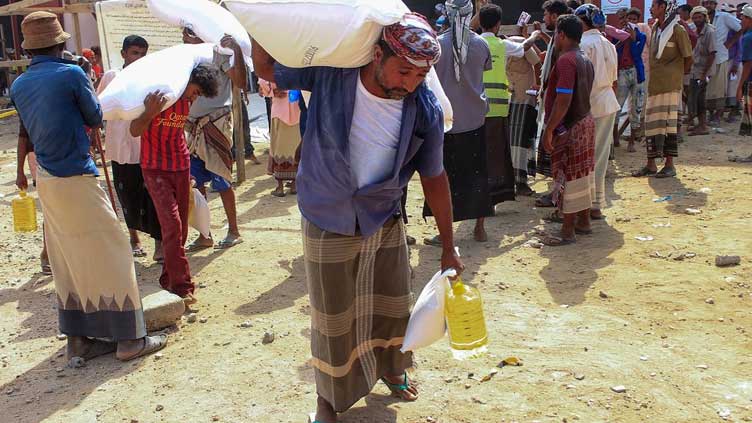 World
UN wants $4.3bn to help millions in war-torn Yemen
Geneva (AFP) – The United Nations appealed for $4.3 billion on Monday to deliver aid this year to millions of people going hungry in war-ravaged Yemen -- and urged authorities to turn a fragile truce into lasting peace.
The UN was holding a seventh pledging conference for Yemen in seven years but hoped the next such gathering could focus on rebuilding the broken country rather than staving off hunger.
The UN says more than 21.7 million people -- two-thirds of Yemen's population -- need humanitarian assistance this year. With its appeal, it aims to reach the 17.3 million most vulnerable of them.
"Together, let us at long last turn the tide of suffering. Let us give hope to the people of Yemen," UN chief Antonio Guterres said in opening Monday's conference in Geneva.
"We have a real opportunity this year to change Yemen's trajectory and move towards peace."
Yemen has been wracked by a devastating war since 2014, pitting Iran-backed Huthi rebels against the internationally recognised government, supported by a Saudi-led military coalition.
Since then, the war has caused hundreds of thousands of deaths both directly and indirectly, and pushed the nation to the brink of famine.
A truce that began on April 2 last year expired on October 2, but many of its provisions have held, giving "a measure of hope for the future," Guterres said.
"After years of death, displacement, destruction, starvation and suffering, the truce delivered real dividends for people," he said.
Yemeni Prime Minister Maeen Abdulmalek Saeed told Monday's conference: "Ending the humanitarian crisis starts with ending the war."
Last year, the UN raised more than $2.2 billion to enable aid agencies to reach nearly 11 million people across the country every month.
But many countries demanded an end to Huthi-imposed rules that force women, including female aid workers, to be accompanied by male guardians, hampering the delivery of aid.
'Life and death': Blinken
US Secretary of State Antony Blinken said Washington would pledge hundreds of millions of dollars, as he called for a lasting end to the crisis.
"As long as the fighting goes on, so will the suffering," he said in a video message.
German Foreign Minister Annalena Baerbock told reporters in Geneva that the world "keeps closing its eyes far too often" on the "humanitarian catastrophe" unfolding in Yemen.
She said Germany would provide 120 million euros ($127 million), mindful of the 400,000 children in the country suffering from "the severest, most extreme hunger".
UN humanitarian chief Martin Griffiths said it was "rather sad" to reach the seventh such pledging conference for Yemen but hoped it would be the last.
"The fact is the Yemeni crisis has gone on far too long, punishing millions of innocent people who didn't want it in the first place, and deserve so much better," he said.
The World Health Organization needs $392 million to reach 12.9 million people with health assistance and "avert the potential collapse of its health system", said Adham Abdel Moneim, the WHO's representative in Yemen.