Spanish PM hopeful to send 10 tanks for Ukraine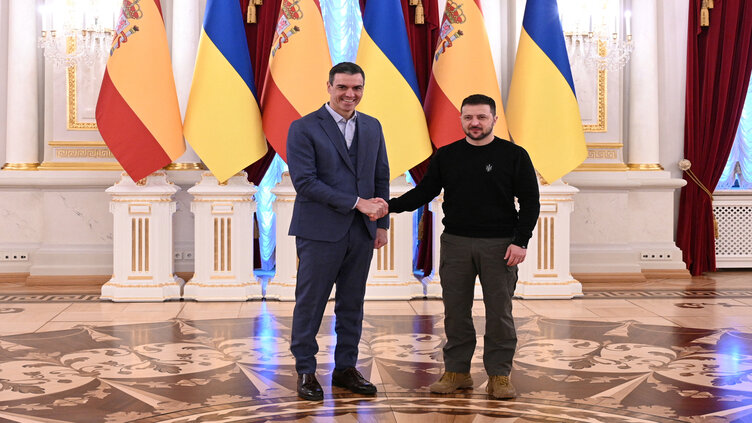 World
Shortly after Biden, Meloni's trips to Kyiv Sanchez arrives in Ukraine
KYIV (Web Desk) - During a visit to Kyiv on Thursday Spanish Prime Minister Pedro Sanchez stated that he hoped to send 10 Leopard tanks to Ukraine soon.
Sanchez speaking with reporters with Ukrainian President Volodymyr Zelensky said that Spain was providing six Leopard tanks right now and wanted to send four more in the future. He said that in the upcoming weeks and months the goal was to see if they could bring this to a total of 10.
Zelensky commended the Spanish prime minister for visiting the war-torn nation after Russia's invasion in February of last year. He said, "I hope that this beginning of Ukrainian-Spanish collaboration will be followed by further measures that will enable us to free our nation as quickly as possible."
Shortly after US President Joe Biden's unexpected trip to Kyiv on Monday, and a day later Italian Prime Minister Giorgia Meloni also paid a visit to Ukraine, the Spanish prime minister arrived there.
Sanchez said that he will talk with other Western countries about Ukraine's ongoing request for aviation help. He added that in Kyiv it was something that they will have to debate with their friends both at NATO and at European level.
Sanchez visited the tiny towns of Irpin and Bucha where the Russian army is alleged to have perpetrated war crimes.