Biden says U.S. is 'going to take care of' Chinese balloon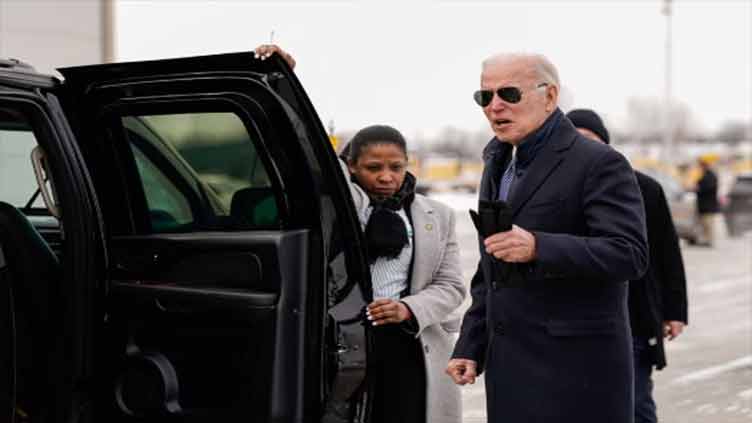 World
Biden says U.S. is 'going to take care of' Chinese balloon
SYRACUSE (Reuters) - President Joe Biden said on Saturday that the United States is "going to take care of" a suspected Chinese spy balloon that has been tracked flying across the United States.
Biden made his remark in response to a question about whether the United States would shoot down the high-altitude surveillance balloon, which has been flying across the country in what Washington calls a "clear violation" of U.S. sovereignty.
The president, who has not previously spoken about the suspected spy balloon, did not elaborate on what was planned. Military leaders considered shooting down the high-altitude surveillance balloon this week but eventually recommended against this because of the risk of falling debris, officials said.
U.S. Secretary of State Antony Blinken postponed a visit to China that had been expected to start on Friday because of the balloon. read more
The postponing of Blinken's trip, which had been agreed to in November by Biden and Chinese President Xi Jinping, is a blow to those who saw it as an overdue opportunity to stabilize an increasingly fractious relationship. The last visit by a U.S. secretary of state was in 2017.
China is keen for a stable U.S. relationship so it can focus on its economy, battered by the now-abandoned zero-COVID policy and neglected by foreign investors alarmed by what they see as a return of state intervention in the market.
Advertisement · Scroll to continue
The balloon was sighted over Montana on Wednesday and has traveled across the United States. It was seen over North Carolina on Saturday morning, according to commercial forecaster AccuWeather which has been tracking it.
China expressed regret that an "airship" used for civilian meteorological and other scientific purposes had strayed into U.S. airspace. China's foreign ministry said on Saturday that the flight of the "airship" over the United States was a force majeure accident, accusing U.S. politicians and media of taking advantage of the situation to discredit China.
The Pentagon said on Friday that another Chinese balloon was observed over Latin America, without saying where exactly.