Brazil's Lula goes to Argentina to 'rebuild bridges' in first foreign trip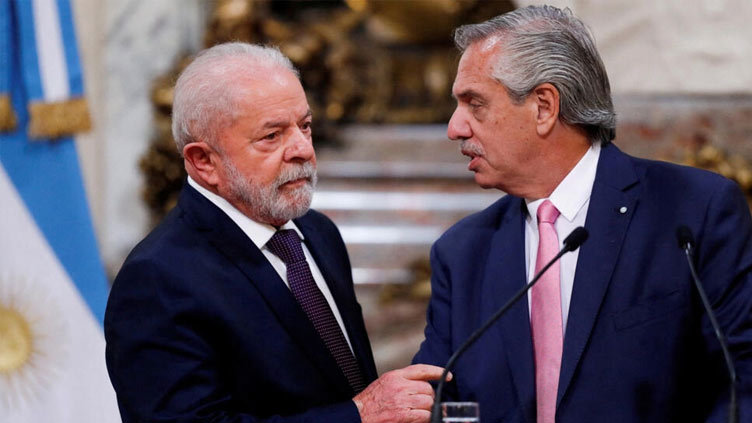 World
The two leftist leaders were to discuss strategic bilateral "gas integration".
(AFP) - Brazilian President Luiz Inacio Lula da Silva on Monday started his first foreign trip since being elected with a meeting in Buenos Aires with Argentine counterpart Alberto Fernandez.
Brazilian Foreign Minister Mauro Vieira said before the trip that Lula was looking to "rebuild bridges" with the international community after four years of his far-right predecessor Jair Bolsonaro's populist leadership.
The two leftist leaders were to discuss strategic bilateral "gas integration" and a "common South American currency" for financial and trade flows, the Argentine presidency said in a statement.
Lula, 77, arrived at the Casa Rosada presidential palace at 11:00 am, accompanied by his wife Rosangela da Silva. He was greeted by Fernandez and First Lady Fabiola Yanez.
Brazil is Argentina's largest trade partner, according to official figures published last week by the INDEC national statistics institute.
Brazil is the top destination for Argentine exports, amounting to 14.3 percent and worth $12.7 billion in 2022.
Close to 20 percent of Argentina's imports are from Brazil, worth just over $16 billion last year.
"Argentina is the most important country in our diplomatic relations," Feliciano de Sa Guimaraes, academic director for the Brazilian Center for Diplomatic Relations, told AFP.
Likewise, Fernandez's government "depends a lot on Brazil," not least in its negotiations with the International Monetary Fund (IMF), with whom Argentina has a $44 billion debt.
Following the bilateral meeting with Fernandez, Lula had been due to hold talks in the afternoon with Venezuela President Nicolas Maduro.
However, that meeting was canceled and Brazilian sources told AFP that Maduro had called off his trip to Argentina.
Maduro's expected presence in Argentina had caused a stir, with civil organizations filing a complaint against the Venezuelan leader for human rights abuses, and some opposition politicians demanding he be arrested on arrival.
'Rebuilding bridges'
On Tuesday, Lula will take part in a Community of Latin American and Caribbean States (CELAC) summit.
His predecessor Bolsonaro had suspended Brazil's participation in CELAC, alleging the body "gave importance to non-democratic regimes such as those of Venezuela, Cuba and Nicaragua."
Lula is also due to meet Cuba's President Miguel Diaz-Canel in Buenos Aires before heading to Montevideo on Wednesday for talks with Uruguay President Luis Lacalle Pou.
"What we will do in Buenos Aires and Montevideo is speak with our partners about the situation we inherited and possible paths to follow," said Vieira, the Brazilian foreign minister.
One challenge Lula will face is a crisis within the Mercosur trade group that comprises Brazil, Argentina, Uruguay and Paraguay over Montevideo's decision to negotiate a bilateral free trade agreement with China without the consent of its regional partners.
Lula begins his visit to Argentina just two days after sacking army commander Julio Cesar de Arruda due to a a lack of "confidence" following the storming of the seats of power in Brasilia earlier this month by Bolsonaro supporters.
Lula has said he suspects the security forces may have been involved in the riots.
He vowed to end the politicization of the armed forces, complaining that Bolsonaro, a former army captain, had managed to fill the military with his supporters.
"The armed forces do not serve a politician ... they exist to ensure the sovereignty of a country," Lula said at a press conference in Buenos Aires.
"We now have a great responsibility: the country needs to return to normality and the armed forces need to return to normality."
As for De Arruda, Lula said "I chose an army commander that did not work out, so I had to pick another one."