Mexican capo's arrest a gesture to US, not signal of change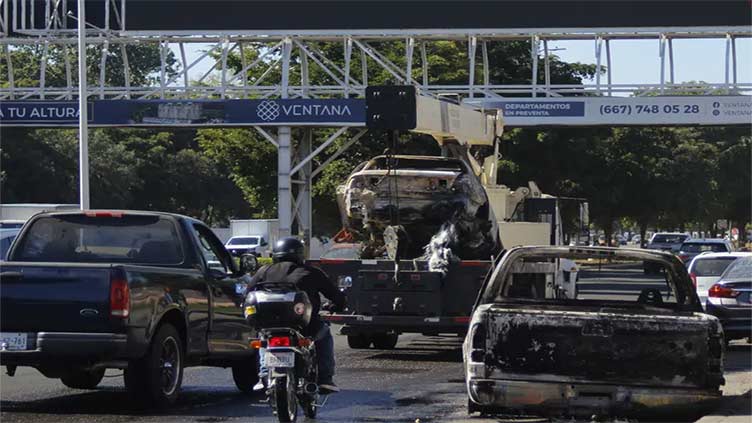 World
Mexican capo's arrest a gesture to US, not signal of change
MEXICO CITY (AP) — Mexico's capture of a son of former Sinaloa cartel boss Joaquín "El Chapo" Guzmán this week was an isolated nod to a drug war strategy that Mexico's current administration has abandoned rather than a sign that President Andrés Manuel López Obrador's thinking has changed, experts say.
Ovidio Guzmán's arrest in the Sinaloa cartel stronghold of Culiacan on Thursday came at the cost of at least 30 lives — 11 from the military and law enforcement and 19 suspected cartel gunmen. But analysts predict it won't have any impact on the flow of drugs to the United States.
It was a display of muscle — helicopter gunships, hundreds of troops and armored vehicles — at the initiation of a possible extradition process rather than a significant step in a homegrown Mexican effort to dismantle one of the country's most powerful criminal organizations.
Perhaps coincidentally, it came just days before U.S President Joe Biden makes the first visit by a US leader in almost a decade.
López Obrador has made clear throughout the first four years of his six-year term that pursuing drug capos is not his priority. When military forces cornered the younger Guzmán in Culiacan in 2019, the president ordered him freed to avoid loss of life after gunmen started shooting up the city.
The only other big capture under his administration was the grabbing of a geriatric Rafael Caro Quintero last July — just days after López Obrador met with Biden in the White House. At that point, Caro Quintero carried more symbolic significance for ordering a DEA agent's murder decades ago than real weight in today's drug world.
"Mexico wants to do at least the bare minimum in terms of counter-drug efforts," said Mike Vigil, the DEA's former chief of international operations who spent 13 years of his career in Mexico. "I don't think that this is a sign that there's going to be closer cooperation, bilateral collaboration, if you will, between the United States and Mexico."
While capturing a criminal is a win for justice and rule of law, Vigil said, the impact on what he sees as a "permanent campaign against drugs" is nil. "Really what we need to do here in the United States is we need to do a better job in terms of reducing demand."
That was a key talking point when the U.S. and Mexican governments announced late in 2021 a new Bicentennial Framework for Security, Public Health and Safe Communities, replacing the outdated Merida Initiative.
The pact was supposed to take a more holistic approach to the scourge of drugs and the deaths they cause on both sides of the border. But underlining the frequent disconnect between diplomatic speech and reality, just two months later the U.S. government announced a $5 million reward for information leading to the capture of any of four of El Chapo's sons, including Ovidio, signaling the U.S. kingpin strategy was alive and well.
"The Bicentennial understanding was a change on paper with respect to attacking drug trafficking and violence with a more important focus on what were supposedly public health programs — (but) without any budget," said Guadalupe Correa-Cabrera, an associate professor at George Mason University. In reality, "Mexico is bending to the United States' interests."
For decades, the U.S. has nabbed drug kingpins from Mexico, Colombia and points between, but drugs are as available and more deadly in the United States as ever, she said. "The kingpin strategy is a failed strategy."
The U.S. Department of Justice declined to comment on Ovidio Guzmán's arrest.
López Obrador took office in December 2018 after campaigning with a motto of "hugs, not bullets." He shifted resources to social programs to address what he sees as violence's root causes, a medium- to long-term approach that did little for a country suffering more than 35,000 homicides per year.
"Something that has characterized, in my opinion, Mexico's security policy in recent years is that it isn't very clear. It has been a bit contradictory," said Ángelica Durán-Martínez, associate professor at the University of Massachusetts Lowell. That ambiguity makes it difficult to determine if there has really been a change, she said.
López Obrador's government benefits from the detention of Guzmán in several ways. The arrest eases the armed forces' humiliation after being forced by cartel gunmen to release him in 2019. It may sooth ill-feelings after his administration strictly limited U.S. anti-drug cooperation two years ago. And it may help diminish perceptions that López Obrador -- who has frequently visited Sinaloa and praised its people — has gone easier on the Sinaloa cartel than on other gangs.
For four years López Obrador has continued to shred his predecessors' prosecution of the drug war at every opportunity. Experts say the respite allowed the cartels to get stronger, both in terms of organization and armament.
Guzmán during that time took a growing role after his father was sentenced to life in prison in the U.S. The younger Guzmán was indicted in Washington on drug trafficking charges along with another brother in 2018. He allegedly controlled a number of methamphetamine labs and was involved as the Sinaloa cartel expanded strongly into fentanyl production.
Synthetic drugs have been impervious to government eradication efforts, are easier to produce and smuggle, and are much more profitable.
The Sinaloa cartel hardly missed a beat when Guzmán's father was sent to the U.S., so the capture of one of the so-called "Chapitos," as the brothers are known, is never going to shake the operation.
Mexican security analyst Alejandro Hope said the detention of Ovidio Guzman probably came as the result of pressure or information from the U.S. government, and marks the tacit abandonment of López Obrador's rhetoric about ditching the kingpin strategy.
For Hope, the detention is depressing, not only because it won't fundamentally change the Sinaloa cartel's booming export trade in meth and fentanyl, but because it reveals how little investigation Mexican authorities had done on Guzmán and the cartel since 2019.
"How great that they got Ovidio, applause, perfect," Hope said. "What depresses me is that we've been at this (drug war) for 16 years, or 40 counting from the (murder of DEA agent Enrique) Camarena, and we still don't have the ability to investigate."
After Guzmán's capture, Mexican officials said he was arrested on an existing U.S. extradition request, as well as for illegal weapons possession and attempted murder at the time they found him. On Friday, Interior Secretary Adán López Hernández said there were other Mexican investigations underway that they couldn't talk about.
"We keep betting on the muscle, the military capabilities and not on the ability to investigate," Hope said.