Last Updated On 08 November,2019 09:51 pm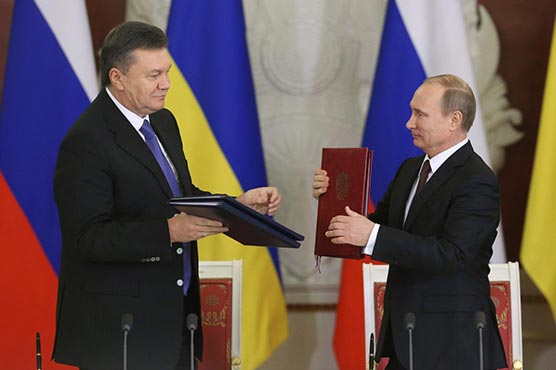 Ukraine case against Russia over war can proceed: UN court
THE HAGUE (AFP) - The UN's top court said on Friday it had jurisdiction to hear a case brought by Ukraine accusing Russia of supporting pro-Moscow rebels, in a decision hailed by Kiev as a "great victory".
Russia had asked the International Court of Justice in September 2018 to throw out Ukraine's case, saying the Hague-based tribunal had no right to deal with the matter.
Ukraine dragged Russia to the court in 2017 saying it had breached a UN convention on the financing of terrorism by funnelling arms and cash to fighters in eastern Ukraine.
ICJ president Judge Abdulqawi Ahmed Yusuf said the court "finds that it has jurisdiction to entertain the claims made by Ukraine."
Kiev is seeking damages for attacks blamed on the pro-Moscow rebels in eastern Ukraine, where more than 13,000 people have died since the war broke out more than five years ago.
Ukraine's deputy foreign minister Olena Zerkal hailed the decision.
"This is a great victory for Ukraine but not only for Ukraine. I think this is a victory of the rule of law," she told reporters outside the court.
"Russia will be accountable and will have to present their opinion and their views and could not avoid accountability for all violations."
There was no immediate reaction from Russia.
The dead in Ukraine include 298 people killed when Malaysia Airlines flight MH17 from Amsterdam to Kuala Lumpur was shot down with a Russian-made BUK missile over rebel territory in July 2014.
A Dutch court is due in March 2020 to begin the trial of three Ukrainians and one Russian over the MH17 crash.
Asked what influence Friday's decision would have on the MH17 prosecution Zerkal said the ICJ "will hear this case and it might be that it will have an influence on the Russian position in the Security Council and that we will achieve justice."
Moscow in the past has vetoed a Security Council draft resolution to set up an international tribunal to prosecute those responsible for the downing of the ill-fated airliner.
The ICJ judgement also came as Ukraine's army and Kremlin-backed separatists were set to complete the last phase of a troop pullback in war-torn eastern Ukraine on Saturday.
The long-awaited move is a precondition for the first face-to-face talks between Russian President Vladimir Putin and Ukrainian leader Volodymyr Zelensky.
The ICJ was set up in 1946 to rule in disputes between countries in a bid to create a new global era of harmony after World War II.