Last Updated On 04 May,2018 08:05 am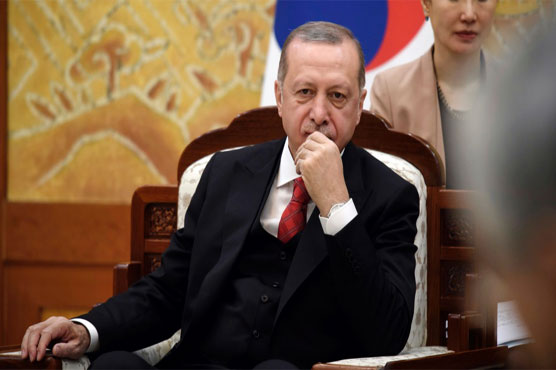 Turkey's ruling party confirmed President Erdogan as its candidate to run in snap polls in June.
ANKARA (AFP) - Turkey s ruling party on Thursday confirmed President Recep Tayyip Erdogan as its candidate to run in snap polls in June, while the main opposition party has yet to make a nomination.
Prime Minister Binali Yildirim said Erdogan, who leads the ruling Justice and Development Party (AKP), would be its candidate as part of an alliance with other political parties including the right-wing Nationalist Movement Party (MHP).
"Our candidate has long been determined by the people. Our candidate is the people s candidate, our candidate is a man of the people," Yildirim said, as he named Erdogan.
Erdogan, 64, was first elected president in August 2014.
His candidature will be formally submitted to the Supreme Election Board (YSK) on Friday by Yildirim and MHP leader Devlet Bahceli.
Earlier this year, the AKP and MHP agreed to run together in the parliamentary and presidential elections, which had been scheduled for November 2019.
Erdogan surprised many last month when he announced that the polls, which will transform the country s political system, would instead be held on June 24.
After these elections, constitutional changes to create an executive presidency will come into force after they were approved narrowly in an April 2017 referendum.
AKP spokesman Mahir Unal later on Thursday told reporters that the ultra-nationalist Great Union Party (BBP) would also join the AKP-MHP alliance.
In a bid to challenge Erdogan and his alliance, the main opposition Republican People s Party (CHP) is set to announce a four-party alliance of its own with the newest Iyi (Good) Party and smaller Democrat and Saadet (Felicity) Parties.
Although Iyi Party leader and former interior minister Meral Aksener has registered to run against Erdogan to be the next president of Turkey, the CHP has yet to name its candidate.
Speculation rose on Thursday that prominent CHP MP Muharrem Ince would be the party s presidential candidate.
Ince gave no indication that he would be the candidate but according to state news agency Anadolu, his CHP colleague Ilhan Kesici said he had already called Ince to congratulate him on being chosen.
A formal announcement by the CHP on its candidate is expected on Friday morning.