Last Updated On 27 March,2018 07:59 am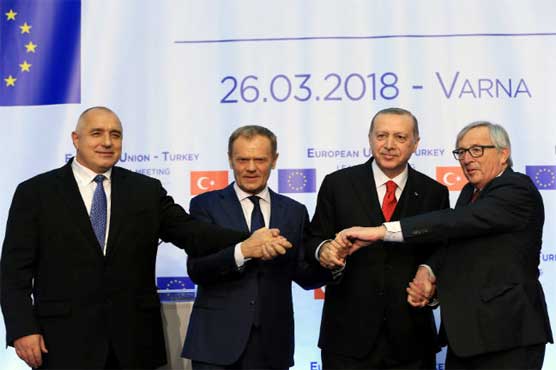 EU on Monday said it failed to reach any "concrete solutions or compromises" with Turkey in talks.
VARNA (AFP) - The EU on Monday said it failed to reach any "concrete solutions or compromises" with Turkey in talks with President Recep Tayyip Erdogan seeking to repair their tattered relations.
Erdogan held a working dinner with European Union President Donald Tusk and European Commission chief Jean-Claude Juncker in Bulgaria with a litany of issues clouding their discussions.
These include EU alarm at Erdogan s crackdown on perceived opponents following a coup attempt in 2016, the arrest of journalists, Turkey s military operations against Kurds in northern Syria and squabbling over Ankara s deal to halt the flow of refugees into Europe.
This has all whipped up an increasingly acrimonious war of words and made Turkey s prospects of joining the EU -- an objective that Erdogan insisted earlier on Monday that Turkey still pursues -- appear even more remote.
But despite hopes for a breakthrough at the summit in the Black Sea resort of Varna, Tusk said they made little tangible headway.
"In terms of concrete solutions, we did not reach a concrete compromise today but I still hope it will be possible in the future," Tusk told a joint news conference.
Tusk said improved relations would depend on progress on issues including the rule of law and press freedom as well as Syria.
But Erdogan struck a more optimistic tone, telling reporters: "We hope that we have left a very difficult period behind in Turkey-EU relations."
However he added: "We don t want rambling or unfair criticisms on sensitive issues like the fight against terror. We expect strong support."
Juncker said the summit was one of "mixed feelings but not mixed messages", adding: "It was a good meeting because as this is the normal principle between big democracies, we were able to talk in all frankness and openness."
Temperatures rose further last week after EU leaders condemned Turkey s "illegal actions" towards Greece and Cyprus in the eastern Mediterranean and the Aegean Sea.
Ankara hit back at the "unacceptable comments" and said the EU had lost its objectivity on Cyprus, which is divided between the Greek-majority internationally recognised Republic of Cyprus and the breakaway Turkish Cypriot north.
The statement on Thursday by the 28 EU members meeting in Brussels condemned Turkey over Ankara s arrest of two Greek soldiers and its promise to prevent the Greek Cypriot government from exploring for oil and gas.
"For as long as the EU does not take a fair attitude, it will not have any contribution to the solution of the Cyprus issue," Erdogan said.
And Juncker raised the issue of the Greek soldiers during the press conference, saying they had confidence in the Turkish side "to solve that in the best way".
Ankara and Brussels had in March 2016 agreed a controversial deal to stop the flow of migrants, in what was seen as a landmark in cooperation and which Turkey hoped would yield visa free travel to Europe.
So far this incentive has not been realised and Erdogan stressed the issue during the talks.
Last month Turkey said it had fulfilled the 72 criteria for visa-free travel and Erdogan told reporters that the necessary paperwork had been sent to the European Commission.
Erdogan said he told the EU leaders that it was "necessary to complete their work at once" on the issue.
Brussels has repeatedly criticised the post-coup crackdown, which has seen nearly 160,000 people detained, including dozens of journalists.
Turkey, for its part, has accused Brussels of failing to show solidarity after the coup and appears set on forging a strong partnership with President Vladimir Putin s Russia.
But Juncker stressed that the EU showed its support for Erdogan merely hours after the attempted putsch began.
In contrast to Erdogan s brisk evening meeting with the EU leadership, Putin -- whose relations with the West have nosedived further following the poisoning of a former Russian spy in Britain -- is expected to make a full two-day visit to Turkey next week.
Ankara has agreed to buy air defence systems from Russia and Moscow will also build Turkey s first nuclear power station.
Next month the EU will release its latest progress report, which is "bound to illustrate a substantial regression" in Turkey, Marc Pierini, a visiting scholar at Carnegie Europe and a former EU ambassador to Turkey, said in a study.
During a visit by Erdogan to Paris earlier this year, French President Emmanuel Macron said Ankara should settle instead for a looser "partnership" with the EU and suggested no more progress was possible in accession talks.
Juncker insisted that he was not in favour of stopping negotiations with Turkey but urged Ankara to improve relations with member states like Cyprus and Greece.