Last Updated On 28 December,2017 09:19 am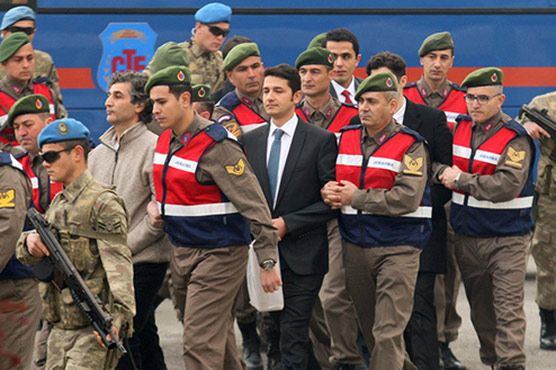 Since the coup attempt, more than 50,000 people, including civil servants and security personnel, have been jailed pending trial and some 150,000 suspended or dismissed from their jobs. Photo: Reuters
(Reuters) - Turkish prosecutors said on Wednesday they will review legal cases against 11,480 people after finding they had been re-directed unwittingly to a messaging app linked to suspects in last year's failed coup.
Turkey has so far identified 215,000 users of the messaging app ByLock, which was believed to be used by supporters of a U.S.-based cleric blamed for the failed July 2016 coup attempt. It launched investigations against more than 23,000 of them.
But on Wednesday the Ankara prosecutor's office said many of them had been re-directed to ByLock without their knowledge or consent, after downloading a different app which had functions for prayer times and music.
"As a result of a detailed examination, it has been determined that 11,480 GSM number users with similar properties in terms of connection data parameters were unwittingly re-directed to ByLock IPs, it said.
State-run Anadolu news agency quoted Ankara chief prosecutor Yuksel Kocaman as saying that he would ask for nearly 1,000 people to be released unless there was other evidence against them.
He said an arrest warrant had been issued for the developer of the other app which had re-directed users to ByLock.
Authorities say ByLock was widely used by followers of U.S.-based cleric Fethullah Gulen, who the government blames for orchestrating the failed military coup in which 250 people were killed. Gulen has denied any involvement.
Since the coup attempt, more than 50,000 people, including civil servants and security personnel, have been jailed pending trial and some 150,000 suspended or dismissed from their jobs.
Rights groups say the crackdown has been exploited to muzzle dissent. The government says the measures have been necessary due to the security threats which Turkey has faced since the putsch.