Last Updated On 09 October,2017 04:11 pm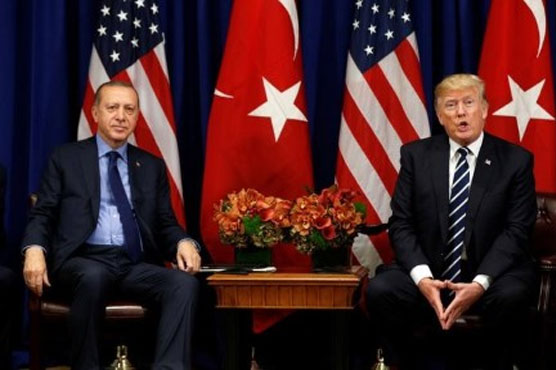 Ankara responded almost immediately in a tit-for-tat move.
ANKARA (AFP) - The Turkish foreign ministry summoned the US embassy's deputy chief of mission on Monday, urging Washington to reverse its decision to suspend all non-immigrant visa services in an escalating row, state media reported.
Philip Kosnett was told Turkey expected the reversal of the move announced Sunday to stop visa services at all US missions in Turkey, state-run news agency Anadolu said.
Ministry officials told Kosnett the move was creating "unnecessary escalation and victimisation", Anadolu reported.
Ankara had responded almost immediately in a tit-for-tat move by suspending all visa services for Americans in the United States.
Relations between the two NATO members were already tense over US support for a Syrian Kurdish militia Ankara deems to be a terror group and the failure to extradite US-based Muslim cleric Fethullah Gulen, accused of ordering the 2016 failed coup.
But ties deteriorated further after the US embassy in Ankara said Sunday it would suspend issuing visas for tourism, medical treatment, business, temporary work or study, after a US consulate staffer was arrested.
Immigrant visa services are only for those seeking to live in the United States permanently.
The embassy said "recent events" forced the US government to reassess Turkey's "commitment" to the security of US mission services and personnel in the country.
Last week an Istanbul court remanded in custody the consulate employee over accusations of links to Gulen's group.
He has been formally charged with espionage and seeking to overthrow the Turkish government, accusations the embassy rejected as "wholly without merit".
Ankara countered Washington's visa move with further restrictive measures, stopping services applying to visas in passports as well as e-visas and visas acquired at the border as well as those issued at diplomatic facilities in the US.
The Turkish embassy in Washington issued two almost word-for-word copies of the American statement in English and Turkish, in an apparent attempt to mock the American counterpart.