Last Updated On 20 September,2017 02:29 pm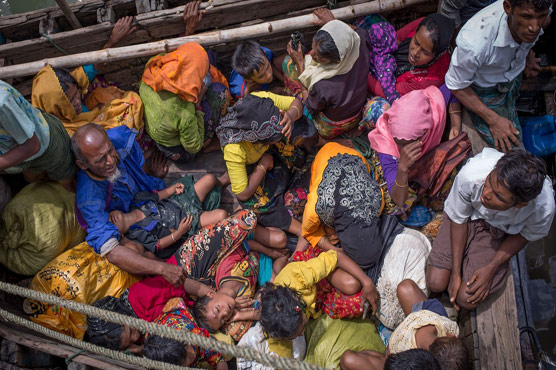 With thousands of Rohingya Muslims fleeing Myanmar military's brutal campaign, Facebook has labeled ARSA a 'dangerous organisation'. Photo: AFP
(Web Desk) - While the international community accuses Myanmar's military of 'ethnic cleansing' against the Rohingya Muslim minority, the social networking giant - Facebook has labeled a Rohingya mutinous group as a 'dangerous organisation' and has ordered its content moderators to delete any material posted by the group itself or by users praising it.
Prior to activists starting to complain about Facebook censoring posts about the brutal military actions against Rohingya Muslims in Myanmar, the decision according to the company was made after an "internal evaluation" of the group by Facebook, reported the Guardian.
A Facebook spokesperson confirmed that the Arakan Rohingya Salvation Army (ARSA) group was placed in Facebook's list of 'dangerous organisation.'
While refusing to comment on whether any of the other groups involved in the conflict that has seen more than 400,000 Rohingya flee the country have been designated as dangerous, or had accounts or posts deleted, the Facebook spokesperson has said that the company's community standards ban posts by or in support of such organisations, which it defines as groups engaged in terrorism, organised violence or crime, mass murder, or organised hate.
Myanmar's military has been accused of engaging in a "textbook example of ethnic cleansing" by a top United Nations human rights official, which according to the Guardian has a verified Facebook page with 2.6m followers.
---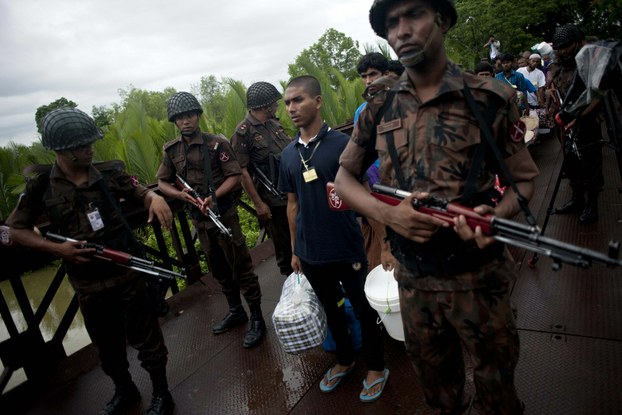 Migrants who were found at sea are repatriated across the Myanmar-Bangladesh border in Maungdaw, Rakhine state. Photo: AFP
---
The government of Myanmar declared 'ARSA' a terrorist organisation on August 25, after the group had carried out attacks on police posts in the western state of Rakhine, killing 12 members of the security forces. Facebook said it did not make its decision at the request of the government, and that the decision was based 'solely on the group's alleged violent activity, not its political aims'.
ARSA that emerged last October and calls itself a freedom fighter organisation on behalf of the almost a million Rohingya living in Rakhine, had claimed on Twitter that the attacks were a "legitimate step" to defend the rights of Rohingya against repression by the Myanmar military. But the attacks triggered 'clearance operations' by the Burmese army that have resulted in a refugee crisis. The top UN human rights official denounced the military's actions as 'clearly disproportionate' to the ARSA attack.
A Kuala Lumpur-based journalist and activist, Muhammad Anwar told the Guardian that he believes Facebook is trying to suppress freedom of expression and dissent by colluding with the genocidaires in Myanmar regime.
"Several of the posts were comprised only of text, and described military operations against Rohingya villages in Rakhine," he said.
While Facebook's decision was welcomed by Aung San Suu Kyi's spokesman, Zaw Htay, who shared a message from Facebook regarding the designation on his own Facebook page on August 26, the social media company has said that some of Anwar's posts had been deleted in error but that the mistakes were not the result of moderators confusing support for the Rohingya with support for ARSA.
Ruchika Budhraja, a Facebook spokeswoman, in a statement said: "In response to the situation in Myanmar, we are only removing graphic content when it is shared to celebrate the violence, versus raising awareness and condemning the action."
"We are carefully reviewing content against our Community Standards and, when alerted to errors, quickly resolving them and working to prevent them from happening again," she said.
Mohammed Rafique, a Rohingya activist based in Ireland, told the Guardian that he was temporarily banned from Facebook on August 28 for posting photos and videos of torture and killings in the Rohingya villages on his Facebook page.
"Although I am still receiving new photos and videos of the ongoing anti-Rohingya violence, I am not posting them on my Facebook any more, fearing Facebook action like suspension of my account," he said.
---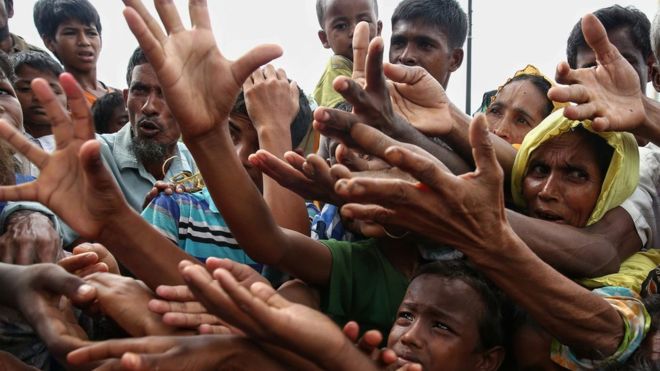 Rohingya have been fleeing Myanmar since the recent wave of violence against them. Photo: AFP
---
According to the Guardian, the deputy director of Asia Division of Human Rights Watch, Phil Robertson said that the Rohingya were forced to get the word out about their cause on Facebook and Twitter because the few media outlets in Myanmar that exercise independence in reporting on the situation in Rakhine face threats of boycotts and retaliation.
"Of course, the problem with social media is that their policing mechanisms can be used for harassment by those willing to mount a concerted campaign of filing complaints against specific Facebook pages or Twitter feeds," he said.
Continuing, Robert told the Guardian that he has seen an explosion of Rakhine and Burman nationalists using Twitter, retweeting hateful messages and gory images.
"It would not surprise me at all if some of those nationalists, using bot accounts and pages apparently set up en masse, are now going on the attack against Rohingya on Facebook," he added.