Last Updated On 12 September,2017 03:48 pm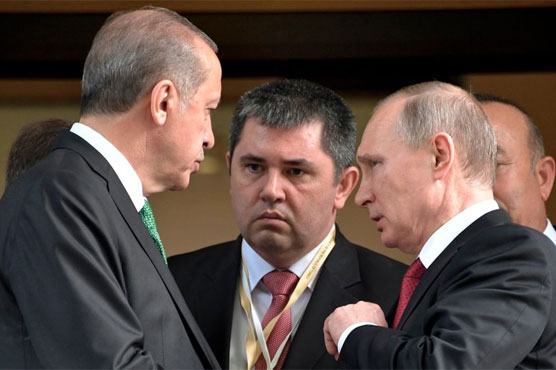 The purchase of the missile systems from a non-NATO supplier is likely to raise concerns.
ISTANBUL (AFP) - Turkey has signed a deal with Russia to buy S-400 missile defence systems, its first major weapons purchase from Moscow, in an accord that could trouble Ankara's NATO allies.
The purchase of the surface-to-air missile defence batteries, Ankara's most significant deal with a non-NATO supplier, comes with Turkey in the throes of a crisis in relations with several Western states.
"Signatures have been made for the purchase of S-400s from Russia. A deposit has also been paid as far as I know," Turkish President Recep Tayyip Erdogan said in comments published in several newspapers on Tuesday.
"Mr Putin (President Vladimir Putin) and myself are determined on this issue," he told Turkish journalists aboard his presidential jet returning from a trip to Kazakhstan.
Moscow also confirmed the accord, with Vladimir Kozhin, Putin's adviser for military and technical cooperation, saying: "The contract has been signed and is being prepared for implementation."
---
'Take our own decisions'

---
The purchase of the missile systems from a non-NATO supplier is likely to raise concerns in the West over their technical compatibility with the alliance's equipment.
The Pentagon has already sounded the alarm, saying bluntly that "generally it's a good idea" for NATO allies to buy inter-operable equipment.
But Erdogan said Turkey -- which has the second largest standing army in NATO after the United States -- was free to make military acquisitions based on its defence needs.
"Nobody has the right to discuss the Turkish republic's independence principles or independent decisions about its defence industry," he said.
"We make the decisions about our own independence ourselves, we are obliged to take safety and security measures in order to defend our country."
He said Moscow would extend a credit to Turkey for the purchase of the weapons.
Quoted by Russian state-owned TASS news agency, Kozhin said the deal was fully in line with Moscow's strategic interests.
"For this reason we fully understand the reactions of several Western countries which are trying to put pressure on Turkey".
However signing the deal does not mean that delivery is imminent, with Russia facing a high demand for the S-400s from its own armed forces and key clients like China and India.
Some analysts have suggested the message sent to the West by the military cooperation between Moscow and Ankara is as important as the delivery itself.
In 2015, Turkey scrapped a $3.4 billion deal with China to build its first anti-missile system.
---
'Another blow'

---
Russia's relations with NATO have been in crisis over its annexation of Crimea from Ukraine and for backing pro-Moscow separatists in eastern Ukraine.
Turkey, a NATO member since 1952, has currently troubled ties with the United States over a number of issues including Washington's support for the People's Protection Units (YPG) Syrian Kurd militia which Ankara considers a terror group.
The Turkish-Russian contract is a new sign of better relations between Ankara and Moscow since a reconciliation deal was signed last year following the 2015 shooting down by the Turkish military of a Russian plane over the Syrian border.
Ankara was also heartened by Moscow's response to the 2016 failed coup in Turkey and the two sides have been working together in search of a solution to the Syria conflict.
But the two nations -- whose rivalry in the Black Sea and Caucasus regions dates back centuries -- are still at odds on a host of political issues.
Turkey, which vehemently opposed the 2014 annexation of Ukraine's Crimea peninsula by Moscow, condemned Tuesday the jailing of a Tatar leader for eight years by Russia over a rally against Moscow's seizure of the region.
Akhtem Chiygoz, a former deputy head of the Tatars' traditional decision-making assembly, was arrested in 2015 over clashes at a rally that left two people dead.
The ruling is "another blow for Crimean Tatars who express their concerns over developments in Crimea through peaceful means," the foreign ministry said in a statement.
Erdogan in the past pledged to support Crimea's Turkish-speaking Tatar minority -- who have maintained their Turkic language and Sunni Muslim religion in a region where the majority is Russian-speaking and orthodox.