Last Updated On 09 September,2017 02:48 pm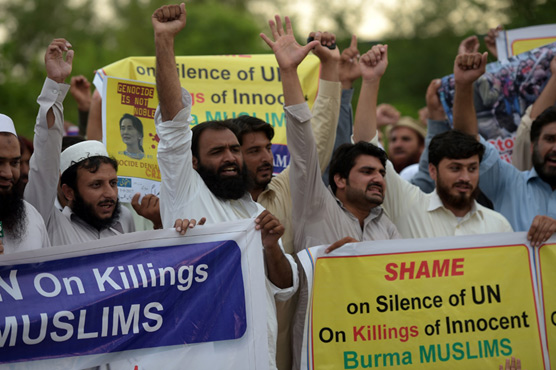 Mass protests took place against Myanmar's government in Pakistan, Bangladesh, Indonesia, Malaysia a
(Web Desk) - Thousands of people across Asia took to the streets to protest against the Myanmar's mistreatment against Rohingya Muslim minority.
UN's refugee agency has reported that at least 270,000 Rohingyas have fled the conflict in northern Myanmar seeking refuge in the neighbouring state of Bangladesh. Roughly a third of Rohingya are said to be living in the predominately Buddhist country. More than 1000 people have been killed in the violence as estimated by the UN.
Thousands of Pakistanis also from all walks of life took to the streets in major cities in Friday to condemn a crackdown on Rohingya Muslims in Myanmar, with many carrying placards stating "Shame on Aung San Suu Kyi", according to AFP.
The largely peaceful rallies were spearheaded by Jamat-e-Islami (JI), but other groups including mainstream political parties joined in.
Leaders including JI chief Sirajul Haq called for an end to the "genocide" of the Rohingya and for Pakistan to break off relations with the government in Myanmar.
In Karachi, which hosts one of the largest Rohingya populations outside of Myanmar, more than 2,000 people demonstrated outside the Karachi Press Club.
---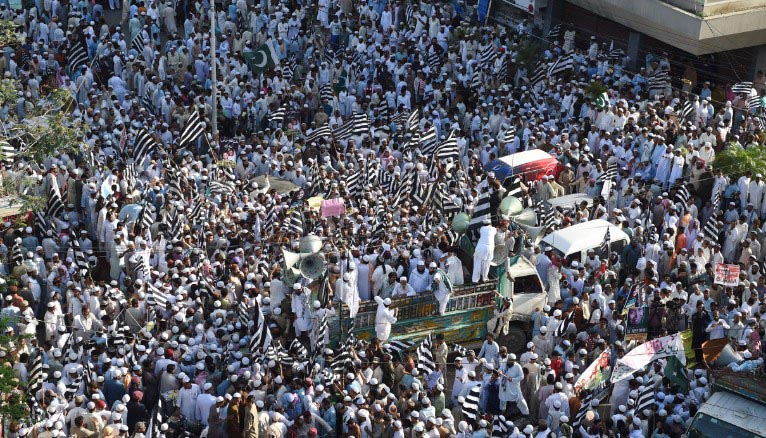 Pakistanis gather during a protest against the Myanmar government in Karachi. Photo: Getty
---
In Islamabad a similarly sized crowd gathered at the entrance to the diplomatic enclave, inside which the Myanmar embassy is situated. Many carried placards reading: "Why are these Muslims being killed? What is their crime?" as chants of "Allahu Akbar", or "God is the Greatest", reverberated.
Security forces with protective riot gear stood nearby and containers blocked off access to the enclave, with some small scuffles.
But police appeared relaxed as the demonstrators, some armed with batons, showed no signs of trying to go further into the diplomatic area.
---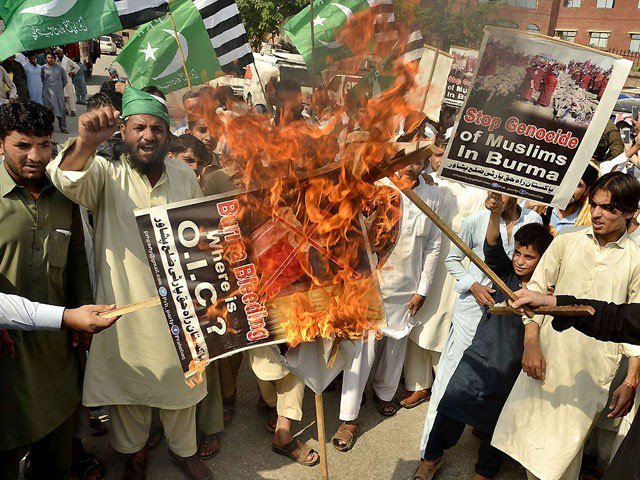 Protesters in Peshawar burn a banner during a demonstration against Rohingya persecution in Myanmar. Photo: AFP
---
Protests were also held in deeply religious neighbouring Afghanistan.
According to CNN, mass protests took place against Myanmar's government in Bangladesh, Indonesia, Malaysia and Philippines.
---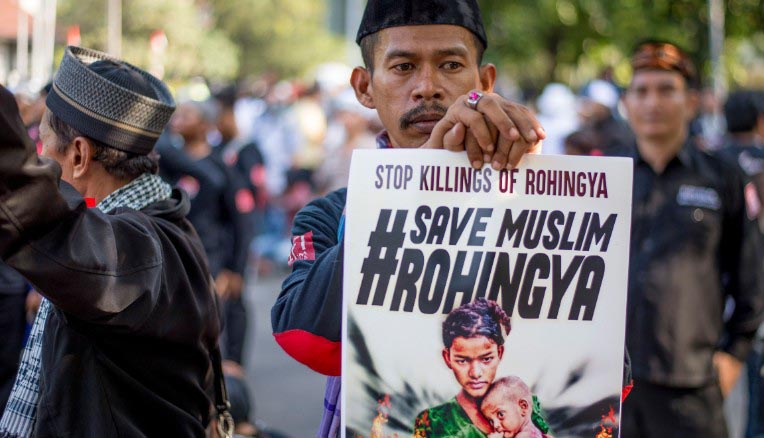 A protester during an anti-Myanmar rally in Jakarta, Indonesia holding a placard. Photo: Getty Images
---
Protests in Bangladesh were held in Dhaka by political and Islamic groups along with civil society organisations urging Myanmar to "stop committing genocide" and take back those who have fled and sought refuge elsewhere.
---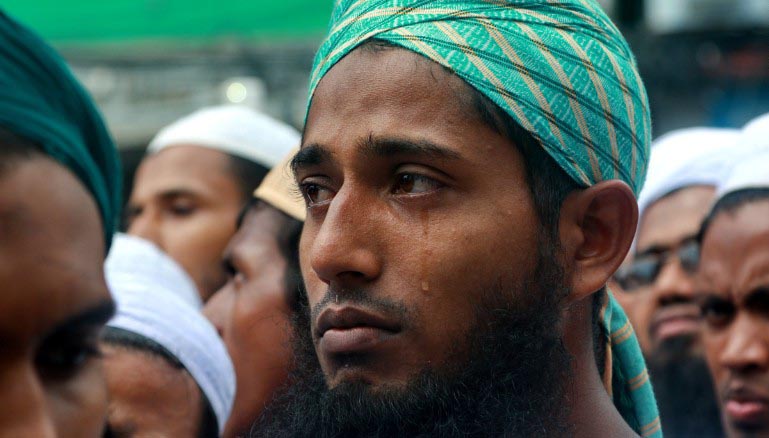 A grieving protestor in Dhaka listening to a preacher describing the plight of Rohingya s Muslims. Photo: CNN
---
Protesters were holding placards and banners criticising Nobel Peace Prize laureate and Myanmar's de factor leader Aung San Suu Kyi.
"I ve joined the rally to express my solidarity with the Rohingya people,"a Bangladeshi activist Mahfuza Haque Neela stated.
"The Rohingya people, including women and children, are being killed ... women are being raped."
He added that "everyone should stand beside the Rohingya people."
Many children were also part of the protest holding placards calling on Myanmar to stop the killing of Rohingya Muslims.
---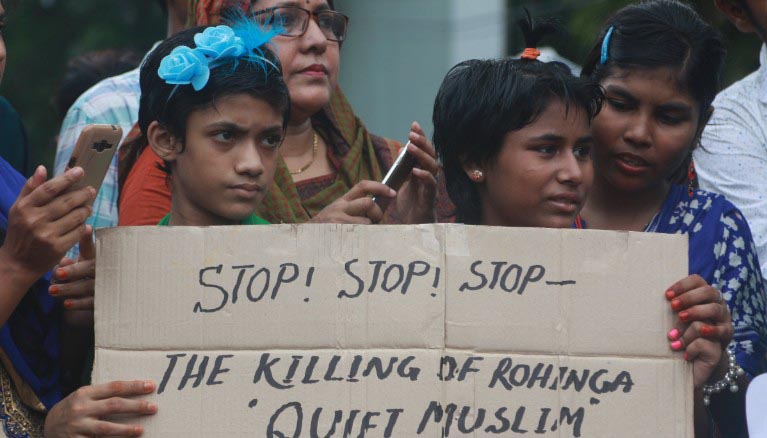 Bangladeshi children participated during the protest against the killings of Rohingya Muslims. Photo: CNN
---
Buddhist groups in Myanmar have been blamed of stirring racial hatred against Rohingya.
"The Myanmar Army is one of only a handful of state forces worldwide, along with North Korea and Syria, to still openly use antipersonnel landmines. Authorities must immediately end this abhorrent practice against people who are already fleeing persecution," Tirana Hassan, Amnesty International s Crisis Response Director, who is currently near the Bangladesh-Myanmar border, said in a statement.
Suu Kyi was criticised by fellow Nobel laureates including Archbishop Emeritus Desmond Tutu and Malal Yousafzai.
"I am ... breaking my vow of silence on public affairs out of profound sadness about the plight of the Muslim minority in your country, the Rohingya," Tutu wrote in an open letter, posted on his official Twitter.
"What some have called ethnic cleansing and others a slow genocide has persisted -- and recently accelerated. The images we are seeing of the suffering of the Rohingya fill us with pain and dread ... If the political price of your ascension to the highest office in Myanmar is your silence, the price is surely too steep."
---

As we witness the unfolding horror we pray for you to be courageous & resilient again. #Rohingya #PrayForRohingya pic.twitter.com/BIDSYY9e1X

— DesmondTutu Official (@TheDesmondTutu) September 7, 2017
---
Suu Kyi has said her government is trying to help "everybody who is in our country, whether or not they are our citizens."
"Our resources are not as complete and adequate as we would like them to be but still, we try our best and we want to make sure that everyone is entitled to the protection of the law," she said this week.
US ambassador to the UN Nikki Haley in her statement urged Myanmar's government to implement Annan commission's recommendations.
Washington "remains deeply troubled by continued reports of attacks against innocent civilians and will continue to urge Burmese security forces to respect those civilians as it conducts security operations," the statement said.
US President Donald Trump is monitoring the situation, a spokeswoman said.