Last Updated On 14 July,2017 02:09 pm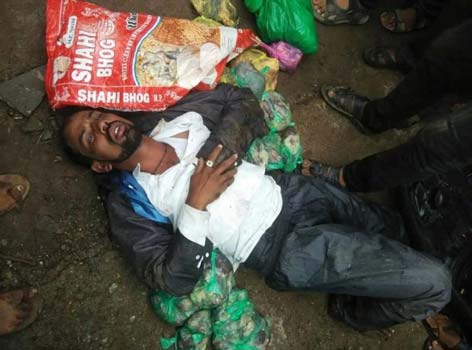 The victim was attacked by cow protectors. Photo courtesy: Hindustan Times
(Web Desk) - When cow vigilantes attacked a Muslim man on the now common allegation of beef possession they were probably unaware that he was a member of the ruling BJP (Bharatiya Janata Party) government.
According to a report by the Hindustan Times, in a strange twist of irony cow vigilantes attacked Salim Ismail Shah, a 36-year-old Muslim Katol resident who claims to be the general secretary of the BJP's Katol taluka minority cell.
The incident occurred when Shah was transporting meat, according to him mutton, from Amner village in Amravati district to Katol on his two wheeler. Somewhere along the way he caught the eye of cow protection activists who waylaid him and began beating him up for transporting beef. Shah says he repeatedly tried telling his attackers that the meat was mutton not beef but none of them listened.
He also said that although several passersby saw what was going on none of them tried to intervene although some of them did take videos of the assault on their cellphone cameras. Eventually one of the attackers threw Shah's vehicle at him knocking him out. Later on a police team got to Shah and took him to a local medical center for treatment. He was later shifted to the Katol civil hospital where he was eventually declared out of danger.
Police have registered two cases of the incident. One is against the accused attackers who have been identified as Ashwin Uike, Janardan Chowdhury, Rameshwar Tayde and Moreshwar Tandulkar. The other case is against Shah who has been accused of alleged beef possession.
Incidents of cow vigilantism have been on the rise across India. A month ago a youth was stabbed to death on a Mathura-bound train after an angry mob accused him and his brothers of eating beef. In May two men were lynched by a mob in Assam after they were accused of being 'cattle thieves' according to a report by the Indian Express.
While the Indian government has denounced the cow protectors and PM Modi has recently declared that killing people for the purpose of protecting cows is "not acceptable" critics allege that the state has taken few concrete steps for addressing the problem. And as this latest incident shows not even members of the BJP are safe from the fervor of the vigilantes.