Last Updated On 05 July,2017 01:12 pm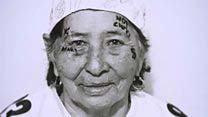 Seventy eight-year-old Maryam's songs have won a massive online following
(Web Desk) - When one thinks of grandmothers the picture of an elderly lady baking or knitting sweaters comes to mind. However, one babushka , Russian for old woman or grandmother, from Kazakhstan has paired up with her grandson to break all such stereotypes by producing some of the most funky rap songs.
---
Video courtesy: BBC News
---
According to BBC News, the 78-year-old Muslim woman from Kazakhstan, has gained a huge following on Instagram by writing rap songs with her grandson Dilshod. These songs focus on general life and the everyday problems that ordinary people face. A news video of her on BBC shows her singing about going to the post office to get her pension. Her songs have won her praise and many social media followers. Dilshod, her grandson, says the whole thing began when he decided to surprise his friends with a video of him rapping with his grandmother. When he posted the video online it quickly became popular on social media. Both Dilshod and Maryam are now working on an album.
While some Kazakhs have accused Dilshod of disrespecting the elderly, the message of Maryam's songs is clear: love, value and respecting your parents.